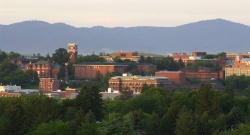 Over the decades, Washington State University has developed a rich history. Founded in 1890 as the state's land-grant institution, WSU has grown from a single campus in Pullman to an internationally respected, multi-campus system.
Historical highlights include:
Instruction beginning in 1895 in what will become the College of Veterinary Medicine.
The story of football player Butch Meeker, for whom the WSU Cougar mascot is named, noted in 1926.
Naming, in 1957, of Frances Penrose Owen as the first woman on the WSU Board of Regents.
Eruption of Mount St. Helens on May 18, 1980, covering the campus in one-half inch of volcanic ash.
Selection in 1986 of WSU biochemist Clarence A. "Bud" Ryan for membership in prestigious National Academy of Sciences, the first WSU professor so honored.
Grand opening of Honors Hall in 2001, the new home of the nationally-acclaimed WSU Honors College, celebrating the college's 40th anniversary.
WSU is ranked among the nation's top 50 public research universities.
 Elson S. Floyd taking office in 2007 as WSU's tenth president.
$25 million grant for School of Global Animal Health from Bill & Melinda Gates Foundation, largest in WSU history.
There's much more! Take a "stroll" through the decades by visiting WSU's history page. Or explore the history of WSU through the eras of its presidents.