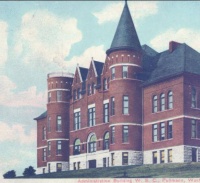 Thompson Hall is the oldest extant building on campus, designed by noted Seattle architect James Stephen and his Chicago trained partner, Timotheus Josenhans. Their firm was selected over 16 other entries in an architectural competition held by the Board of Regents. Thompson Hall was constructed in 1894 for less than $50,000 using local red brick made from clay deposits in back of what is now Stevens Hall. It was placed on the National Register of Historic Places in 1972. It was originally known simply as the Administration Building and renamed Albert W. Thompson Hall on April 15, 1972. Thompson served as Dean of Humanities in the College of Sciences and Arts.
Until 1968, it served as the main administration building as well as housing a number of other university functions.
It is prominently sited and immediately identifiable by its two large towers, one truncated and one with a conical roof. The romantic Victorian Romanesque character of the building is further enhanced by a rich variety of windows and entryways and the use of rock-faced granite (quarried near Spokane) for its contrasting trim.
It was rightly described by the Regents at the June 26, 1895 dedication as "an excellent piece of work and one that in point of convenience, strength, and architectural beauty compares with any state building."
Today, it has been extensively remodeled inside, but the exterior remains largely intact. It was most recently renovated at a cost of $7.6 million and rededicated on September 23, 2000. It is one of WSU's most notable buildings, an excellent example of an early ideal in educational architecture.
A commonly told story is that the building's second tower remains uncompleted because the construction contracts of the day left a loophole whereby the college did not have to pay the state for the building until it was completed, and by leaving one tower unfinished, the school never had to pay that money. This is untrue. Original plans called for one of the two towers to end in a platform, and an October 6, 1893 Pullman Tribune article about the early stages of construction notes that "of the two towers in the building one terminates with a deck to receive the meteorological instruments." The WSU Veterans Memorial, located across from Thompson Hall, was dedicated on November 11, 1993 and cost $150,000.