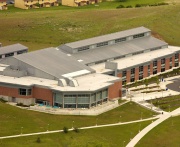 The Student Recreation Center was completed in 2000. The SRC boasts over 200 pieces of cardio and weight equipment, multiple arenas for basketball, volleyball, badminton, roller hockey, indoor soccer, floor hockey, inline skating, racquetball and much more. It also houses a five-lane lap pool, leisure pool, and a 53-person spa. Over 3,000 students use the facility each day and over 80% of students access the facility each semester.
Memberships to the SRC are included in students' full time tuition. A fun fact about the SRC is that the pool area is shaped like the state of Washington.
Read more about the Student Recreation Center in The lure and at the University Recreation website.[1]