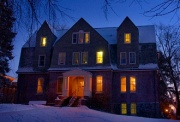 Stevens Hall is a residence hall built in the summer of 1895. It is the oldest residence hall and second oldest building still standing on campus. It is named after Isaac Stevens, first territorial governor in Washington. Aside from a year-long closure for rehabilitation work in 1958, the residence hall has been in continuous use since its completion.
The building was put on the National Register of Historic Places in 1978. The Stevens Hall Historic Landmark dedication occurred on November 8, 1980. The hall is the oldest operating residence hall west of the Mississippi.
Its design is an eclectic combination of several styles including Queen Anne, Colonial Revival, and Shingle. It possesses irregular massing, multiple gabled and gambrel roof formations, and a rich interplay of wall surfaces. It was constructed for less than $20,000 out of brick manufactured from clay deposits on the site, local basalt, Puget Sound fir and red cedar shingles.
Enclosure of the second floor solarium and replacement of the wood shingles of the roof and upper wall surfaces have compromised its architectural integrity, but have not lessened the importance of Stevens Hall to the historic development of the campus. In addition to its primary function as a residence hall, it served as the early social center of the campus, the site of receptions, state conventions, and annual dinners for faculty and administrators. It remains a dignified, yet unpretentious, reminder of the campus formative years.
Some students claim that it is haunted by a girl who was murdered in the building during 1971. For more information see "Campus Legends and Ghost Stories".