Remembering Ed Murrow's visit to the complex that now bears his name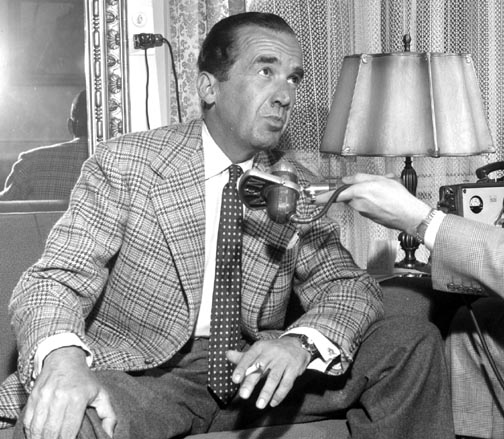 By Dennis Cresswell
Washington State University created the Edward R. Murrow College of Communication in the same month in 2008 that we would have celebrated the late broadcaster's 100th birthday. It reminded me of a graduation day in Pullman nearly 46 years earlier.
I entered Washington State College in the fall of 1958 (it didn't become WSU, acknowledging that it was a true university, until 1959). At that time, there was no degree in communication studies or communication arts. Our broadcast curriculum was part of the Speech Department, we took journalism classes taught by the English Department, and the advertising curriculum was part of the Business School.
Murrow spoke at my class's graduation in June 1962 and was honored with the university's Distinguished Alumnus Award. By that time he had left CBS and was head of the U.S. Information Agency. In his commencement address he spoke about U.S.-Soviet relations, saying he didn't think a major confrontation was inevitable. I suppose it was a sign of the times that we all thought the world was most certainly headed for a nuclear war.
Later that day, Murrow sat down in the TV studio in the old Arts Hall to speak informally to our small group of broadcasting majors. We were proud to be able to shake his nicotine-stained hand and ask questions about his career at CBS. He talked about the evolution of TV newsgathering and the pioneering shows he hosted. We heard firsthand about the decisions that brought down Sen. Joe McCarthy, the subject of the movie "Good Night, and Good Luck."
But, surprisingly, the things I remember most vividly from sitting at the feet of this journalistic giant were his chain-smoking and the wonderful way he spoke — dropping the timbre of his voice to end each phrase, as if to give it a finality that most of us reserve for closing a sentence. His phrasing was reminiscent of his famous World War II radio intro, "This…is London." Murrow died just three years after that last visit to the Pullman campus. He was an unfortunate victim of the unfiltered Lucky Strike cigarettes he lit one after another.
After I graduated, broadcasting and journalism were merged in 1964 to become the Liberal Arts College's Department of Communications under Chairman Bob Mott, who was an excellent professor of broadcast journalism. In 1968 Mott left for a position with the newly formed Corporation for Public Broadcasting and was replaced by another of my memorable professors, Hugh Rundell.
Arts Hall was renovated in 1968 and renamed the Edward R. Murrow Communications Center after its famous alum, and now that building is part of the Murrow Communications Center complex along with a building constructed in the early 1970s. It would be so much fun to be a student there today and begin a career using 21st-century technology.
For Murrow, I'm sure it would be nothing short of mind-boggling.