by WSU Professor Emeritus Al Harrington:
I first met Sam Mompongo and Robert Kwetwenda at the Pullman airport in the fall of 1961. They had been educated in a Baptist Mission School in the Congo, and our pastor had been notified through Baptist channels that the two were arriving in Pullman for a university education.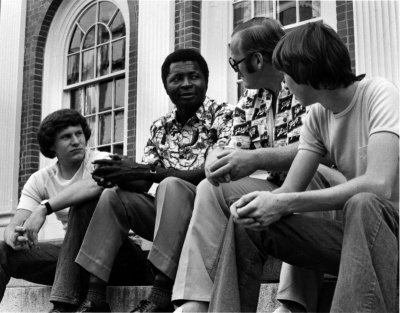 Before they arrived, they had a month's crash course in English in Washington, D.C. They were both very tired from a long plane trip and jet lag. Our conversation was limited; their English was too new, and my French was too old. We delivered them to the dorm for International students.
In those years we had a Roger Williams house near the campus, and in February, 1963, the campus pastor reported, "The living arrangements at the house now include six students on the dorm side and three students in the apartment, The latter are international students including Samuel Mompongo and Robert Kwetwenda. We are happy that these two students from our Congo School with their Nigerian friend could feel enough at home to make the Center their residence.
Robert had to leave for home early because of stomach and food problems. But Sam continued and made close friends at the R.W. House, including Wayne Capps. He also made friends in the International Club.
By the spring of 1965, Sam was actively gathering support for his dream of building a High School in Ntondo and its surrounding area students. It would be named the WSU High School.
Our pastor got involved in arranging, purchasing, and delivery of a brick press from a Belgian firm, as well as a generator for the school. We collected funds from downtown firms and individuals.
In the summer of 1967 Wayne Capps and his wife visited Sam and his family and worked with all the towns folk of Ntondo regularly one day a week gathering rocks and sand for the foundations, carrying them in their arms and on their heads to lay the foundation. It took 8 years but Millard Fuller reported, "The finished structure is a beautiful, spacious building for 700 students. Mompongo became its first director, and classes began before the structure was completed, with students contributing labor to finish the job."
I believe that every freshman class of WSU should be made aware that WSU High School in Ntondo, Congo was built 40-50 years ago. What will they do after they graduate? 
Al Harrington,
Professor Emeritus
(without merit)