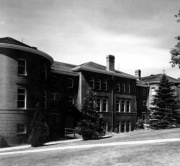 Originally Science Hall, Murrow Hall was built to serve the biological sciences and geology, to house the museum and provide a temporary home for the Departments of Agriculture, Horticulture and Veterinary Science. The third floor of the south wing was used for three college literary societies. Elevated seats, removed in 1964, were located in a large semi-circular room on the south wing of the first floor for observation of veterinary clinics and animal husbandry demonstrations. Its science functions were taken over by a new science building in about 1935, after which it became Arts Hall. It was renamed in 1973 after the famous news broadcaster, Edward R. Murrow, one of WSU's best known alumni.
By the 1960s it was home of WSU's Radio and Television Services, with a transmitter and studios of KWSC-TV and the antenna atop Bryan Hall tower. Collegiate training in radio broadcasting began at WSU KWSC is one of the oldest educational broadcasting stations.
Murrow Hall's architect was G. Bullard. It was built at a cost of $60,000, and dedicated June 20, 1900. Like several early buildings, it has double hung windows with straight lintels on lower floors and arched heads on the upper level. Its design is simple and restrained, but it gains its interest from the projecting bow fronted wings on either end of the east facade facing "Hello Walk." An interesting detail is to be seen in the original rainwater heads, which have been preserved. On the west side, the former main entrance is obscured by the somewhat overwhelming Murrow Communications Building of 1972. The original Murrow Hall and that newer Murrow Communications Building, both connected by an upper level walkway are commonly referred to as Murrow East and Murrow West, respectively.

<gallery> Image:Murrow.jpg|Edward R. Murrow. Photo courtesy WSU Manuscripts, Archives, and Special Collections Image: Sciencehall1905.jpg|Science Hall, now Murrow Hall, pictured in 1905. Photo courtesy WSU Manuscripts, Archives, and Special Collections Image: Murrowwest2.jpg| Murrow West Addition after completion in 1973. Photo courtesy WSU Manuscripts, Archives, and Special Collections Image: Sciencehallwomen.jpg| Women performing the May Pole Dance outside Science Hall. Photo courtesy WSU Manuscripts, Archives, and Special Collections