by Gail Tustin Bacon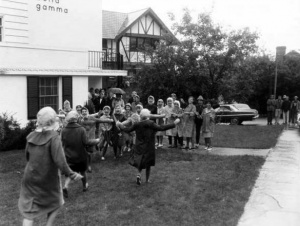 I was just one of hundreds of girls going through Rush in September of 1963. We were housed in the Streit-Perham dorms for the week getting to know each other, consoling those who didn't get invited back to a favorite house, and trying not to be homesick. The last day came, and we made our choices to attend Final Lunch and Final Dinner. These two events marked the end of a very anxious week. Now we would decide, and the sororities would decide, how all of this would play out.
After final dinner, we went back to the dorms and indicated our first and second choices hoping that somehow they wanted us too! The next day we received our bids and went joyfully to the sorority houses to become pledges. Fraternity members were on hand to help us go to our new campus homes. It's all somewhat of a blur now through the excitement of the time and the span of years since.
During those years, pledges had house duties to perform and study hours to meet. We had a rec room in the basement of the Alpha Phi house where pledges were required to spend three hours each night, Monday through Thursday, studying. An upper classman was always in attendance to proctor study table. On weekends, we turned in a tabulation of study hours to the Scholarship Chairman. This was a great exercise for me, for without that structure, I probably would not have been as disciplined during the remaining three years of college.
Sorority members were not allowed to wear casual clothes to campus. Even in the blinding snow, no slacks were allowed! On Saturdays and Sundays we could wear nice slacks, but jeans were unheard of! We followed strict rules from our sorority and had to adhere to a curfew. Kissing our dates goodnight in front of the houses was forbidden.
Even with the rules, we still managed to have lots of fun. The sororities and fraternities had social gatherings such as exchanges and parties, and each house hosted at least one dance during the year. The CUB and Coug were favorite places to go for enjoyment. The CUB (Student Union) was always busy between classes....coke dates, bridge games, and fast food lured the students away from the library. Pledges were to remain in the library between classes as they had to attain a certain grade point to be initiated. If a pledge didn't make grades during the two semesters, she was not initiated. Once a member, a Greek felt liberated!
I imagine this description of fraternity life sounds extremely restrictive by today's standards, but I feel we became more prepared for the "outside" world, both socially and scholastically than if we had been in a more liberal climate. While I resented some of the strict policies, I will always remember Greek life at WSU as one of the most rewarding times of my life. To this day, I have a strong bond with many of the members from those years.