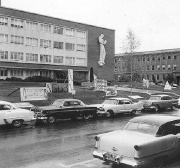 Located in the heart of the WSU campus, Holland and Terrell Libraries occupy the space between the CUB and Bryan Hall along the Terrell Mall. They are the main libraries on the Pullman campus. Holland Library was built between 1948 and 1950, with groundbreaking September 24, 1947 and the dedication ceremony on May 28, 1950. It was named after former Washington State College President Ernest O. Holland. Designed by John Maloney, Holland Library was one of the first buildings to be constructed with modern functional architecture. It cost $2,600,000 and was designed to house 1,500,000 volumes and seat 2,200 students at one time.
The Library's most distinctive detail is a 30-foot high statue on the west side, near the original main entrance. This statue was designed by Seattle artist Dudley Pratt, and officially named "The Reader." It was carved in Bedford, Indiana, the source of the limestone used on this and several other campus buildings, such as Todd Hall and Smith Gym. The statue has long been known informally as "Nature Boy," after a famous song recorded by Nat King Cole in 1948.
The Glenn Terrell Library was completed in 1994 and named after former president Glenn Terrell in 2006. It was previously known as New Library or Holland Addition.
The Terrell Library cost $36 million. The design architects were the Zimmer Gunsul Frasca Partership of Portland and Seattle, working with Spokane's ALSC Architects. The Glenn Terrell Friendship Mall, in front of the library, was dedicated on October 7, 1995.
To learn more about Glenn Terrell see: Past Presidents of WSU Glenn Terrell[1] or to learn more about Ernest O. Holland see: Past Presidents of WSU Earnest O. Holland[2]