by Janis Clarke Waley '70 BA, '83 Ph.D
As a theatre major and full time denizen of Bryan Hall from 1966 to 1970 I can vouch for Mr. Uthmann's sanity and some of his story. My fellow students and I in that era had many encounters with a benign presence that we fondly christened "E.A.". We had all kinds of manifestations from footsteps and moving furniture to, very occasionally, some one who returned from the attics with an actual visual sighting.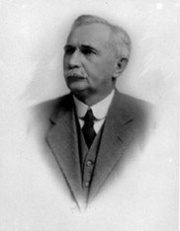 One of my first "meetings" with "E.A." happened when I was returning stage props to the lower tower storage room during "strike" one night. I had made a few trips already with the uncommonly rich haul for props from a production of "Li'l Abner" and I was doing some extra work to put things away as neatly as possible and simultaneously to pull some items for "A Christmas Carol" which was coming up next, as you did not want to waste trips to the tower. I was nearly done when I heard footsteps coming down the stairs from further up the tower. I know no one was there but the sounds were distinctly a boot on a stair tread and I decided the better part of valor at that moment was to go back to the stage and tell the technical director that I would finish in the morning and that "E.A." was abroad. That particular faculty member had had his own occasions to interact with our ghost so he said that would be fine.
On another night my friend and I were leaving the building and we were pretty sure that no one else was around but suddenly we could hear the organ in Bryan Auditorium. Music majors who needed to rehearse on the pipe organ had keys so we thought we would stop and say hello to whoever was playing. When we opened the side door of the orchestra level, the room was empty, the organ console was neatly covered with that memorably ugly, heavy and hard to move beige wrapping, and the only illumination was the aptly named "ghost light" on the stage as the last chords of music faded away. We took a hint and just went on home.
When the main theatre activity moved over to Daggy Hall we seem to have left "E.A." behind. I think he visited sometimes, especially when the graduate student offices were on the second floor just outside the attic door, but it was not like the old days. I have not been to Bryan Hall for a long time, but I would make one of a party to go in search of "E.A." one more time on some quiet night.