by Bob Axworthy ('48 Chemical Engineering, '49 Political Science)
I have many stories of my WSU (actually, WSC) experiences but this one has never been told. Since it has been almost 60 years, it might be safe now… maybe there is a 50-year Statute of Limitations, or something. But suppose I start at the beginning: When I was in my high school chem lab in Vallejo, CA, I invented a neat explosive. It was only years later that I discovered that the Chinese had been using it for about 2000 years. Nonetheless, the explosive afforded me much sophomoric hilarity over several years. A thumbnail-sized dab of explosive produced a satisfactory fire-cracker-like bang when the detonator string was pulled. I never allowed my secret formula to get out and I managed to use these devices with considerable care and never got in major trouble.
Unfortunately, my high school graduation year, l941, was not a good one in which to plan for College, but I made a deal with my Draft Board for a 2A (Educational) deferment if I could get into college and had a chemistry major. I enrolled at Sacramento Junior College just a short drive from Vallejo. When I graduated from Sacramento JC two years later, my dad had become the pastor of Grace Baptist Church in Spokane and I quickly matriculated in nearby WSC... before the Draft Board could zero-in on me!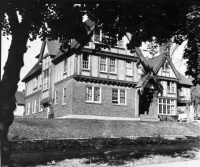 I got almost through my Junior year before military reverses overseas dictated that the army
did
need me. By then I had been hooked by WSC. Wartime school housing problems got me into the Beta Theta Pi house as an ex-officio member. But, oh yes, The Story! It seems that a fellow engineer in another fraternity was aware of my 'magic bombs' and he pleaded for some to 'fix up' the frat house when his pledge class ran off on their 'sneak'. As they hid the silverware, knotted the sheets, etc., they would leave some strategically located booby traps. Hilarious! In a burst of poor judgement, I complied. My next information about the project came from a series of bulletins on the Chem Lab bulletin boards: "Wanted! Information on vandals who want only destroyed fraternity property. Believed to be the work of a Chem student."
Fortunately, my draft notice came the following week. I don't know if the Draft Board accepted fugitives, but I managed to sneak in. The next time I was on campus, in 1946, there were about a million of us returning ex-GIs and I don't think anybody noticed me. Now that I've admitted to all of this, I hope nobody gets any idea about taking away my Chemical Engineering degree because it has served me well over the last 60 years! Here are just a few of its fringe-benefits:
It got me out of the Infantry and into General MacArthur's Headquarters(GHQ)
Minnesota Mining and Manufacturing (3M) hired me because of the degree.
Food Machinery and Chemical (FMC) gave me a better deal.
A pump and compressor company made me a Vice President!
The National LPGas Assn made me Chairman of their Safety Committee.
The Fertilizer Institute did the same.
I plied my trade all over the world!
All this fun for 60 years... and they paid me for most of it!