by Eric Roberts '52
Buck Bailey was a very successful and colorful Baseball Coach at Wazzu and earlier he coached the line on the football teams. When he went to basketball games and boxing matches you could him shouting all over the gym. Specially at a boxing match, he would shout: Jab! Jab! Move! Good Right!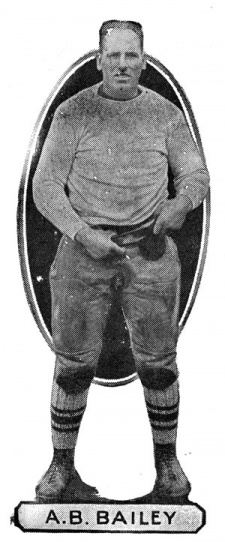 He was an A-1 rooter!!! He was a tough disciplinarian. His rule for players on road trips was to be on time. If the bus was leaving a 10am, he would look around the bus to count the players and shout to bus driver "we got nine... Shorty let's go!
During the games, when he was angry or disgusted he would kick the bats or the water bucket. At Idaho the students put sand in the bucket. OUCH! If he didn't get a good call, he would stomp out, moving side to side, as he attacked the umpire. I wondered why he was never was thrown out of a game? I asked an umpire once, he smiled and said: "He looked like he was madder than hell and with gestures he would say:' jeeesus Joe it is really a nice day and a good ball game!"
In the spring, Buck had a baseball class in the field house and they were going over some infield situations. I was not in the class, but I was waiting off to the side for a friend on our way to work for the groundskeeper (we were paid $1.50 an hour). I couldn't quite hear what Coach was saying so I slid over a little closer to hear about baseball tactics. He noticed I wasn't giving him my rapt attention!
He asked me: "the bases are loaded with one out early in the game, how would you play the infield?"
I answered: "Pull them back and play for the double play."
Buck: "well...do it!"
With waving hands I moved the 3rd baseman and shortstop back.
The class is smiling! I look for my friend, so I can get out the situation, but now we have drifted over to 2nd base and Buck thinks he has a live one.
He asks: "how are you going to make the play at 2nd base"
The 2nd baseman threw me his mitt.
The catcher threw me a grounder... I'm 15 to 20 feet from the bag...
I caught it and flipped the ball backhanded...right to short stop...
(I'm pleased)
Buck erupts: "Yeesus Christ I'll FLUNK YOU 4 TIMES...YOU HAVE TO PIVOT AND then THROW TO 2nd."
After his outburst, he sees some smiles and hears some laughs. He says: "Are you in this class?"
"No!" I said as I walked towards the door as my friend came in, and we went to work.