Web Exclusives
Washington state road trips
| © Washington State University
Winthrop to Marblemount–North Cascades Highway—87.4 miles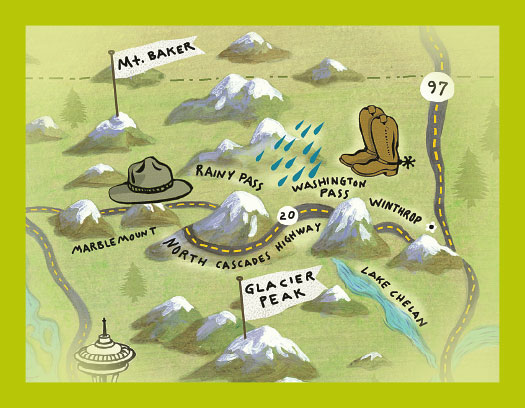 I was running late, headed for Marblemount over Washington Pass. As it grew darker, I drove through thick, swirling clouds. The clouds would part, revealing a jagged peak, then close quickly, then reveal another. It was dizzying and magical, the road before me disappearing and reappearing. It was only in 1972 that State Route 20 made the 87-mile drive from Winthrop to Marblemount possible. The highway passes through extraordinary landscape and ecological transitions, from the sagebrush of the Methow Valley to lush semi-rainforest around Marblemount. Be sure to stop at the Newhalem Creek rockshelter. Just a short walk from the highway, the rockshelter was occupied by locals who hunted mountain goats. Read "Of Time and Wildness in the North Cascades," Spring 2010
Washtucna—Palouse Falls—Starbuck—Walla Walla—82 miles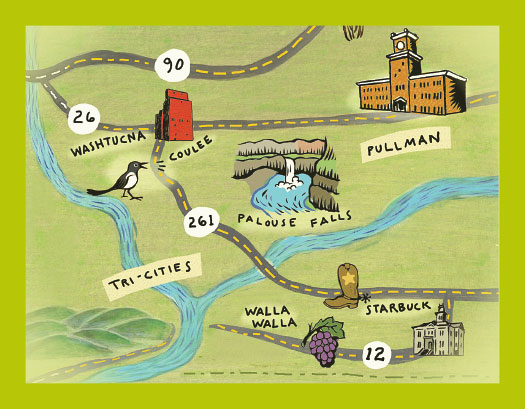 All roads lead to Washtucna, so start there. Head south on State Route 260 through Washtucna Coulee, a main channel of the Missoula Flood. Huge as it is, though, it was too small to contain the torrent. Turn left on 261 toward Starbuck and Palouse Falls. The 200-foot high Palouse Falls is spectacular any time of year, but particularly during spring runoff. You are far from anywhere. The only sounds you will hear are ravens, magpies, and the falls. You are about four miles upstream from the confluence of the Palouse River and the Snake. Marmes Rockshelter is near the confluence. Continue through Starbuck, population 129, and along the lovely Tucannon River. You are within a few miles of the site of WSC President Enoch Bryan's short-lived utopian settlement. Continue through Dayton and Waitsburg, one of the most bucolic of drives in a primarily bucolic eastern Washington. You will undoubtedly stop in Walla Walla to visit some of the 17 winery tasting rooms downtown or just continue to Rick Small's Woodward Canyon in Touchet. While in Walla Walla, have an onion sausage at Onion World. Then have another. Also, the sycamores in the city park are fabulous. Read "Cataclysm, Light, and Passion," November 2001; "An Exquisite Scar," Fall 2004; "Back in the Earth," Spring 2011; "First Words," Fall 2012; "Walla Walla Sweets," Fall 2010
Wenatchee—Waterville—Grand Coulee Dam—96 miles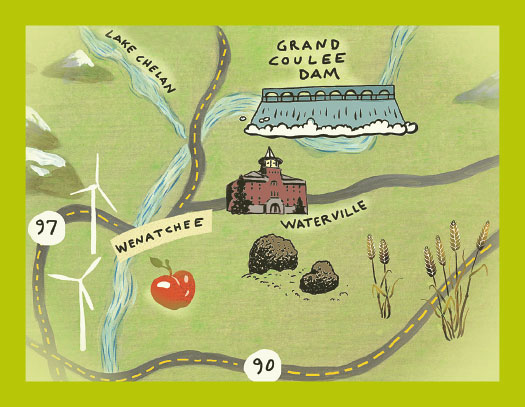 From Orondo, north of Wenatchee, head up the Corbaley Canyon grade toward Waterville. Stop at every pull-off for views of the Cascades to the west. Stop in Waterville for lunch at Kopey's Cafe and get the story on the miniature working jet airplane hanging from the ceiling. On across the Waterville Plateau, a surreal place scattered with erratic boulders left from the southern edge of past glaciers. Brace yourself for Moses Coulee, one of the most spectacular highway descents I know. Moses Coulee, less well known than the parallel Grand Coulee but maybe even more magnificent, was cut by Glacial Lake Columbia. On to Grand Coulee and north, though you might want to take a brief side trip south to the spectacular Dry Falls. Read: "Water to the Promised Land," Fall 2013
Ozette—How far? Who knows?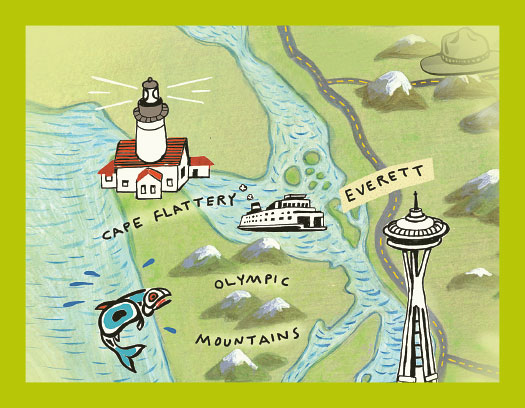 There is no road trip to the old Ozette, of course. But you can certainly drive to Neah Bay, the current headquarters and community of the Makahs. Their excellent museum displays the incredible collection of artifacts excavated from the buried longhouses of Ozette, everything from spears and baskets to children's toys. Definitely take the short but dramatic and elemental walk out to Cape Flattery. There's also a place in the middle of town with unbelievably good smoked salmon. Just drive around and look for a lot of smoke. Oh, and they might also have "salmon candy." Neah Bay is a long way from anywhere and makes a great trip no matter where you start. But from Neah Bay, you can drive to Lake Ozette. And from there you can always hike the few miles out to Cape Alava, an easy day hike. All trace of the old village of Ozette is gone, as is the settlement that housed WSU archaeologists during its excavation. But if you squint and let your mind go, you might hear the children playing amongst the longhouses and watch the hunters weave their canoes in amongst the rocks to shore. Read: "Home of My Family," Spring 2008 
Ice Harbor Dam—Twin Sisters/Wallula Gap—22.1 miles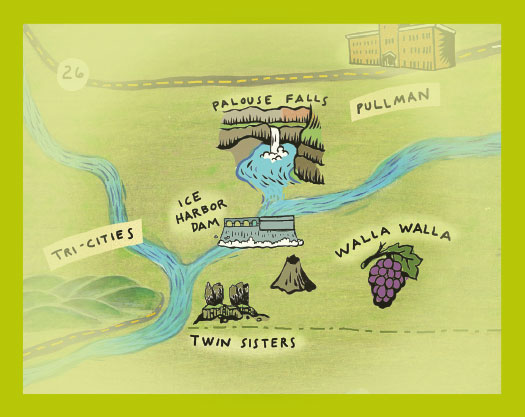 From Pasco, take US 12 east to the Snake River/Vaughn Hubbard bridge. Cross the bridge and shortly after exit onto Ice Harbor Dr/State Route 124. Head east about 5 miles and then turn left onto Ice Harbor Road/Monument Drive. Drive (north) 2.5 miles to the dam. If you follow a dirt road west along the river a short distance you will come to a point where the road narrows to a 4WD path you will find a rare Columbia basalt volcano. The small volcano is a mound of rock about 50 feet high with evidence of different types of lava—large fragments call bombs, small pieces from fire fountains, and gassy pieces of pumice.
To continue the trip to Twin Sisters backtrack to US 12 and head south. You will pass by McNary National Wildlife Refuge—few areas in North America support such dense concentrations of waterfowl given its location the Pacific Flyway. Just past crossing the Walla Walla River turn right onto US 730 which will take you through the Wallula Gap—a large water gap of the Columbia River through basalt anticlines in the Columbia River Basin. It has been recognized as a National Natural Landmark by the National Park Service. Less than 2 miles pass the US12/730 interchange you will come to the Twin Sisters pillars—residual basalt from the Missoula Floods which have shaped Native American mythology in the region. (See the route on Google Maps.)
Three Passes—393 miles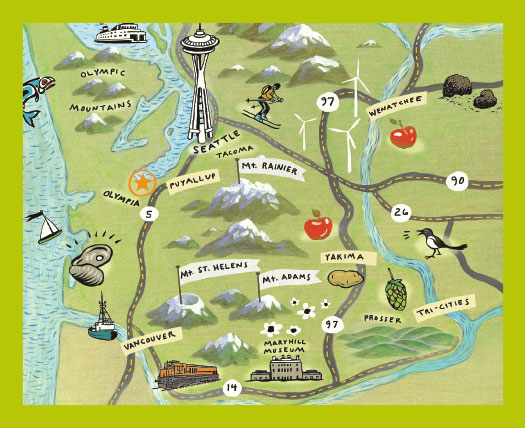 I crossed three passes one early November morning. My worry about weather was unfounded: It was even sunny that first day. Starting in Seattle, I crossed Snoqualmie, then Umtanum Ridge (a Washington scenic byway) between Ellensburg and Yakima, and then, taking Route 97 south, windy but glorious Satus Pass through Goldendale and past the Maryhill Museum to Wishram, a small railroad town at the edge of the Columbia. Then on to Bingen and White Salmon by way of Highway 14. After two nights in the warm company of my new White Salmon friends, I visited Stevenson just 40 minutes further west (but in a new county) for a day and night, and then on to Cathlamet. The drive between White Salmon and Vancouver is breathtaking, and the color, even in November, was gorgeous. The quiet stretch between Longview and Cathlamet was like a painting—still and reflective. Rather than remnants of fall, these roads wore full-on glory—golds and yellows against the blue of November firs, thick mist hugging the river, but breaking open too. I don't think New England has anything on our colors, at least not this year, and cannot touch the mythic beauty of our river and gorge. Hard to keep my eyes on the road—but necessary! It's mostly two lane. —Kathleen Flenniken