Web Exclusives
About The Storyteller—A triple portrait
by Derek Mueller with Daniel Vasconcellos
by John Paxson | © Washington State University
The editorial illustration for The STORYTELLER: Patrick McManus '56, '59 MA by Tim Steury in Washington State Magazine's Summer 2011 issue required the collaboration of two well respected artists: Derek Mueller—an illustrator who works in the style of Norman Rockwell—and caricaturist Daniel Vasconcellos.
The Storyteller: A triple portrait is a spoof on Norman Rockwell's famous Triple Self-Portrait that appeared on the cover of The Saturday Evening Post, February 12, 1960. (It is in the permanent collection of the Norman Rockwell Museum in Stockbridge, Mass.) The choice of it is appropriate: Patrick McManus had enrolled at WSU (WSC) because of its fine arts department with the intention of becoming an illustrator, possibly the next Norman Rockwell whose style he admired. Those who cherish his stories, though, are certainly glad that did not happen…but within this composition, Patrick finally reaches the canvas.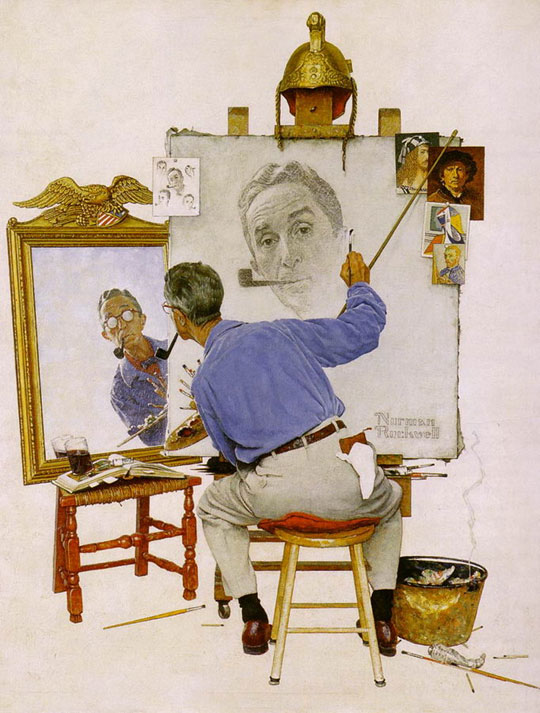 Rockwell's paintings were famous for their clever visual references (note the smoldering bucket—pipe ashes ignited his used oil rags and burned down his studio in 1943; or the helmet at the top of the easel—one of the few of his many props saved from the fire). The Storyteller likewise has many allusions which relate to artifacts of McManus' life (just mouse over objects in the top illustration to reveal information about them).
We just all hope this proves as good of a sight gag as Patrick McManus deserves.
About the artists:
Derek Mueller was inspired at age 12 by a traveling exhibit of Norman Rockwell's work—he decided then and there that he wanted to be an illustrator. After studing art, film, and French cultural studies at Stanford University, he attended the Academy of Art University in San Francisco. He began his professional career as a storyboard artist for many of the Bay Area advertising agencies, and later concentrated on "finished" illustration in his familiar Rockwell style. His oil painting "Farm Family" was recognized by the Society of Illustrators in NYC.
His corporate clients are innumerable (one of his favorite projects was for the California Raisin Advisory Board). Additionally, his work has appeared in many publications including Scholastic Books and Reader's Digest; a Rockwell-style illustration of his recently appeared on the cover of The American Legion Magazine.
Derek Mueller has been a long time resident of the San Francisco Bay Area.
Daniel Vasconcellos is almost synonymous with McManus, given he was an illustrator for Patrick's Outdoor Life "Last Laugh" series and many of his books. (Several of these illustrations appear around the canvas in The Storyteller, as well as a newly rendered portrait in the middle.)
Daniel Vasconcellos has been creating humorous drawings for as long as he can remember. His clients including the Harvard Business Review, The New York Times, The Wall Street Journal, Simon & Schuster, Microsoft, Time, Disney, The Christian Science Monitor, and, of course, Outdoor Life.
Dan lives on the south shore of Massachusetts with his wife, Joan, and their children, Nora and Davis.
A postscript:
It would be remiss to not mention another artist associated with Patrick McManus' work. Al Hirschfeld's caricature of Patrick and his iconic illustrations accompanied each of the Outdoor Life columns starting with the very first one (December 1981 issue). They continued their professional relationship for many years until Daniel Vasconcellos eventually assumed that role.