Features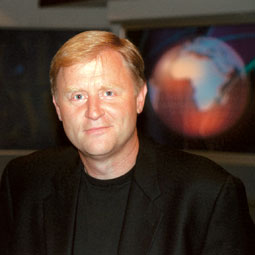 Peter Van Sant Thrives on a "48-Hour" Day
by Pat Caraher | ©
Washington State University
SEASONED CBS NEWSMAN Peter Van Sant hasn't seen it all. But he hasn't missed much either.
In 16 years with CBS News, the award-winning correspondent has covered presidential campaigns, the space program, and the airline industry. He has reported on the collapse of the Soviet Union, fighting in the Persian Gulf, famine in North Korea, and starvation in Africa. Closer to home, his story on the survivors of the Oklahoma City bombing aired on the 48 Hours special, "Day of Reckoning," June 11, 2001, the day Timothy McVeigh was executed.
On the lighter side, Van Sant has covered the anniversary of Elvis's death, done a two-part series on actor Nick Nolte's "new age diet," and reported on South Carolina's so-called "Lizard Man." He refers to the latter as "something out of The X-Files."
Following graduation with honors from Washington State University ('75 Communication), Van Sant worked as a local reporter at television stations in Idaho, Iowa, Nebraska, Arizona, and Texas. He joined CBS News in 1984, spending six years in Atlanta and nearly three with the London bureau. Now based in New York, he's been a correspondent for the past two years with 48 Hours, the popular television news magazine that bills itself as "real life drama."
"The show casts a wide net, sensational court cases to popular culture trends," says Van Sant. Given the experience he's had at CBS in hard news, he prefers stories that focus on "controversy and confrontation." He says such stories tend to be important, whether they deal with wars, major social issues, or court trials. The stakes are higher, and the people involved are more impassioned. "The important story is what we live for."
A typical 48 Hours show takes several months to produce, while some investigative projects require up to a year. Occasionally, the entire show will be devoted to a single topic. For 48 Hours correspondents, "the crown jewel" is to do a one-hour show solo—organizing, investigating, gathering material, and writing, bringing their own sensibilities and style to the story. "It gives you an opportunity to bring all your skills to the table," Van Sant says.
"In a way, an hour becomes a signature broadcast. The challenge is putting it all together." For some shows that means shooting more than 100 30-minute tapes. All interviews are transcribed. Interview text can number more than 100 pages to edit and dozens of hours of video to screen and log. "In the end, this is the most satisfying kind of story our show has to offer," he says.
In one of his solo shows, "Justice for Sheila," 48 Hours linked a millionaire businessman to the murder-for-hire killing of his ex-wife, the mother of quadruplets. In another, Van Sant spent more than a year following the case of Velessa Robinson, a 15-year-old Florida girl accused of helping her boyfriend kill her mother. The one-hour special was entitled "A House Divided." And a third, "The Imposter," focused on the many lives of a Phoenix man who has had at least 15 separate identities and six wives.
"We specialize in getting in early on a story, following the evolution, and bringing the viewer along on the journey," says Van Sant. Last October 2000, Van Sant did an exclusive interview with Lori Berenson, 31, a New Yorker jailed in Peru since November 1995.
"She never had a fair trial and was convicted in a military court of being a member of a terrorist group," he says. "She claims she's innocent and is awaiting a new trial." Van Sant interviewed family members and friends and did extensive research on Tupac Amaru. The same group took over the Japanese Embassy in Peru in 1996 and held 72 hostages for four months.
In May, he received an Overseas Press Club Award for his exclusive interview with Berenson.
In June, Berenson was sentenced to 20 years after a three-judge panel found that she helped the Tupac Amaru Revolutionary Movement plan a thwarted takeover of Congress by gathering intelligence with a top rebel commander's wife. The sentence included the five years she has already spent in prison. She was acquitted of being a member of the rebel group.
Van Sant considers the London bureau his "best assignment." From there, he spent 300-plus days a year traveling in Europe, the Middle East, and Africa. He filed reports from the Gulf War after Saddam Hussein's troops invaded Kuwait in August 1990. And he reported the collapse of the Soviet Union, finalized in 1991.
"It was simply the greatest working experience anyone could dream of," he said of his assignment abroad. "I had attended the Edward R. Murrow School of Communication at WSU. Now I was working for the news division that Edward R. Murrow had built at CBS. I was having the time of my life on someone else's credit card, reporting on history as it happened before my eyes."
He has been nominated for seven Emmy awards for his reporting at CBS News and has won three. In 1997, he earned an Emmy for his coverage of the famine in North Korea, a country he calls "Orwellian, a Stalinist theme park, the most controlled society on earth."
But even that description falls short of the reality he witnessed. Compounded by "a backward Stalinist government system that created a disastrous agriculture policy," the famine affected nearly one-quarter of the population. For an American, Van Sant said, being in North Korea was like stepping onto "another planet."
Everywhere he went, Van Sant found people gathering grass and leaves to eat. Yet all around them, giant billboards depicted socialist-realist images of well-fed, happy people with smiles on their faces looking confidently to the future.
The capital city, Pyongyang, was filled with monuments to communism and the late "great leader," Kim Il Sung. The only pictures hanging in the flats within the rows of drab, concrete apartment buildings were of Kim Il Sung and his son, Kim Jung Il. Every citizen not wearing a small pin of Kim Jung Il over his or her heart was subject to "immediate arrest," Van Sant said. There were no newspapers. While most North Koreans in the large cities had television sets, they could watch only a governmentrun channel that broadcast story after story about Kim Jung Il.
Van Sant was taken to a nursery, where more than a dozen babies lay staring. "It was the saddest thing I'd ever seen," he said. "The government wanted these pictures to be seen by the rest of the world as an indication of how desperate things had become. The most closed society on earth was revealing its dirty little secret."
Van Sant had brought baby formula with him to respond to just such a moment, but the North Korean nurses reacted as though "I was offering them poison," he said. An American doctor told him most of the babies would soon die.
Van Sant had been in Pyongyang only 16 hours before flying to Tokyo to put his story together. These were the first pictures ever of the famine in North Korea, he said. "The reaction to our story was profound. Millions of tons of food were donated and shipped to North Korea."
That same year, Van Sant was back in Europe, reporting the chaos in Albania. A pyramid scheme organized by the government had collapsed. Many families lost their entire savings. Mobs took over the major cities. On three occasions, he was nearly shot.
To Val Limburg, one of Van Sant's communication professors at WSU, it's all in character. "Peter was not afraid of hard work and challenges," he says. "While many students might feel overwhelmed or disorganized—not Peter. He dove in and tackled the tasks at hand. Of course, that may have been because they were the kinds of things he loved, and he gladly took on the challenges to stretch himself to accomplish them."
He remembers, too, that Van Sant was not lacking in self-esteem, or at least never publicly revealed that he was. "He knew he could do the job and had no misgivings about his ability. The greater the challenge, the more he seemed to love it. Such confidence might give the impression of a strong ego. But he had the competence to demonstrate his high self-esteem."
Now, as Limburg watches Van Sant's work on CBS News, he says he can see that his character has served Van Sant well in a competitive profession.
"He's not afraid to tackle tough issues and does impressive investigative reporting," Limburg says. "Yet, his stories often show he has a sensitive and compassionate side."
For his own part, Van Sant says, the toughest challenge is to react quickly to an unfolding story, make the right choices, and ask the right questions. "If you don't get it right on one story, it can end your career."
Van Sant's many awards testify to his skill at getting it right. In addition to the Emmys, he won a Columbia Dupont Award for reporting in Eastern Europe, the Edward R. Murrow Award for an investigative story on an indicted war criminal in Bosnia, and The Overseas Press Club Award for both the Bosnia and North Korea stories.
"I've been very lucky," he says.
Comments are temporarily unavailable while we perform some maintenance to reduce spam messages. If you have comments about this article, please send them to us by email: wsm@wsu.edu