Tracking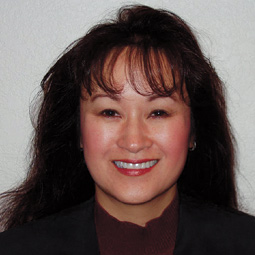 Challenges remain for women, minorities in technical fields
by Treva Lind | ©
Washington State University
"I think . . . [managers] need to be educated. They need to see more women and minorities who are competent at their jobs to dispel any prejudices against them." -Shannon Nutt
The fact that very few women were entering engineering careers 25 years ago didn't dissuade Shannon Ueda Nutt from pursuing her dream. Now she's enjoying a successful, challenging career with the Northrop Grumman Corp. in Palmdale, California, where she's engaged in a highly technical field supporting B-2 stealth bomber development.
"I knew my junior year in high school that I wanted to be an engineer," says Nutt. She remembers the day an engineer came to speak to her class at Spokane's Ferris High School. "My favorite classes were physics and math. I wanted to go into a field which utilized both."
Nutt credits her Japanese American father, Hiroshi William Ueda, for convincing her that she could be a success at any profession she selected.
"His support made me believe that there were no boundaries . . . that I could do or be anything that I wanted, regardless of race or sex."
After graduating from Washington State University ('81 Elect. Engr.), Nutt worked during the 1980s with Rockwell International on the space shuttle program and the B1-B bomber.
At Northrop Grumman, she develops, tests, and integrates operational flight software for avionics control processors on the B-2 stealth bomber. She is part of a rotational program that allows employees to learn different aspects of the company for six-month stints. Her recent assignment was with the B-2 Radar Modernization Program, updating the B-2 radar system to meet new Air Force radio frequency requirements.
In September 2003, Nutt received a national Women of Color Achievement Award in Nashville, Tennessee. The awards were presented during the Women of Color Research Sciences and Technology Awards Conference celebrating the successes of minority women in mathematics, science, technology, and engineering.
"I try to mentor women who are new to the industry with their careers, if asked," Nutt says. Because of this award, she has had young woman engineers who are relatively new to the company e-mail her asking for advice.
Although honored by the award, Nutt wishes there were more awards simply recognizing achievement in research and technology, regardless of ethnicity or gender.
From her WSU days, Nutt recalls the influence of  Harriett Rigas, chair of electrical engineering, who oversaw a Society of Women Engineers chapter, and assistant professor of electrical engineering Edmund Schweitzer. "I didn't appreciate until later in my career the immense quality of the teachers WSU provided," Nutt says.
Asked about challenges remaining for women and minorities in technical fields, Nutt cites the need to erase wrong perceptions about their abilities. She also recommends working hard, being prepared, continuous training, and networking.
"I see the inequities, and a lot of them are caused at the lower management level. I think they [managers] need to be educated. They need to see more women and minorities who are competent at their jobs to dispel any prejudices against them."
"There are still instances where not much is asked or expected from women or minorities because of certain perceptions and prejudices. There's a lot of talent out there that is under-utilized. Management isn't giving them the chance to prove themselves."
Nutt believes it's important to invest time in helping each other out professionally, and to mentor, she says "or this talent will be lost to another company."
Comments are temporarily unavailable while we perform some maintenance to reduce spam messages. If you have comments about this article, please send them to us by email: wsm@wsu.edu