Panoramas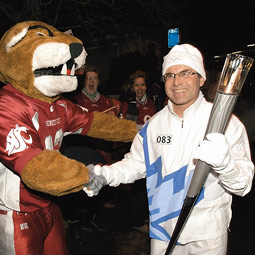 Olympic torchbearer
©
Washington State University
About 7 p.m. January 24, John Tarnai accepted the Olympic Torch and braved chilly winds along an eighth-mile leg of the Olympic Torch Relay in downtown Spokane. He said he was "honored and humbled" by the people who lined both sides of the street cheering and waving American flags. "A part of me said, 'don't trip.' "
More than 11,500 Torchbearers were selected to carry the Olympic flame from Atlanta to Salt Lake City, site of the 2002 Olympic Winter Games. The journey began December 4, 2001 and concluded with the February 8 lighting of the cauldron in Rice-Eccles Olympic Stadium. The torch passed through 250 U.S. cities and 46 states.
A jogger and recreational skier, Tarnai directs the Social and Economic Sciences Research Center (SESRC) at Washington State University. He holds two psychology degrees ('76 M.S., '82 Ph.D.) from WSU.
SESRC colleagues Rita Koontz and Danna Moore nominated Tarnai to be a Torchbearer. "He is an outstanding example of someone who inspires others . . . and one who promotes team spirit among our 300-plus employees," they wrote.
It was wonderful to be able to represent the Olympic spirit and Pullman, Tarnai says. "It's an experience that only comes along once in a lifetime."
Comments are temporarily unavailable while we perform some maintenance to reduce spam messages. If you have comments about this article, please send them to us by email: wsm@wsu.edu