book
Prisoners of Flight
by Sid Gustafson '77 :: The Permanent Press :: Reviewed by Brian Ames '85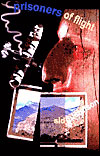 In Prisoners of Flight, Sid Gustafson's veterinarian protagonist refers often to angels: "We haven't heard from our angels in a long time. But they're out there . . . waiting somewhere in the sky."
Two ex-military pilots, Gustafson's protagonist and his comrade, Henson, crash their plane into wilderness alongside Montana's Flathead River. Former Vietnam POWs, they have wrestled with life's trials ever since, holding to a single constant: a fierce longing for an idealized sky. Says Gustafson's protagonist: "The flying rule is: When in doubt, do nothing. But I'm not flying anymore." For indeed, Gustafson's characters are themselves fallen forms of the angels they seek.
Gustafson (B.S., D.V.M. '77) manages both an economy of words and a compelling lyricism. There's a rhythm here that makes for a read difficult to interrupt. And he's not afraid to toss the rules. Single-word sentences. Pop phraseology. Recurring metaphors. The result is a harrowing adventure part magical realism (with a hint of psychedelia), part paean to the deep forest, part redemption chronicle, and part cryptogram.
Gustafson strands his characters with only a river shack for shelter. Soon, twin sisters—"two breathless earth cookies"—searching for their dog (named Hope—"lost Hope") emerge from the forest cold and bewildered.
The protagonist recalls how he and Henson communicated cell-to-cell as POWs—through tapping out a simple alphabetic code. They repeatedly refer to this "old dance," often lapsing into it. Acutely aware of their frailties and failures, they call often on God. And while longing to be back in the sky, they fool themselves like lost boys whistling in the dark that happiness can be found on the ground: "Our earthbound angels can't stop smiling. And we thought they only lived in the constellations of our skyblown minds."
The narrative dealing with Henson's fate is both mythic and sad. (I'm not giving away much here, since the first two words of Gustafson's novel are, "Henson's dead.") Finally, the protagonist's escape and redemption are pulse-pounding.
There is much that is satisfying about Prisoners of Flight. Best is that it ends, as all good prayers do, with a single word, tapped out in code:
"Amen."
- Brian Ames '85, author of Smoke Follows Beauty (Pocol Press, 2002), Head Full of Traffic, (Pocol Press, 2004),and Eighty-Sixed (Word Riot Press, 2004).