book
Greenscapes—Olmsted's Pacific Northwest
by Joan Hockaday :: WSU Press :: Reviewed by Hannelore Sudermann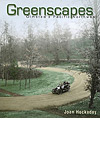 John Charles Olmsted, nephew and stepson of world-famous park designer Frederick Law Olmsted Sr. and half brother of landscape architect Frederick Law Olmsted Jr., spent much of his life in the shadows of his more famous relatives. Even so, on the West Coast he has had the greatest and most lasting influence of any single landscape architect.
Because of an invitation made to the Olmsted firm to visit Portland in 1903, John C. Olmsted made a number of trips to the Northwest over the ensuing eight years shaping college campuses, city neighborhoods, zoos, and public gardens in Seattle, Victoria, Portland, Spokane, and Tacoma.
When Bainbridge Island-based author and gardener Joan Hockaday learned of a collection of Olmsted's daily letters, about 500 of which he had written home to his wife in Massachusetts while traveling through the Northwest, she was prompted write this book. The letters, which detail site visits, local color, and his first-hand experience in these burgeoning communities provide the backbone for Greenscapes. Hockaday fills in her research with other correspondence, city plans, and local histories.
The result is the detailed stories of the Northwest's most treasured parks and campuses including the University of Idaho, Whitman College in Walla Walla, Portland's Washington Park, and Seattle's Woodland Park and Volunteer Park. Out of the dense forests, waterfronts, and rangelands of the region, Olmsted imagined neighborhoods and public spaces. Of Woodland Park, he urged that a menagerie be kept to the upper portion of the park, away from Green Lake which he argued was too beautiful and too much needed for the crowds of visitors who would come to ramble and sit under the trees.
He also critiqued misguided park efforts. In Bellingham, for example, the flat eight-acre effort had too many flowering shrubs and plants: "It's like a room that has too many sorts of bricabrac on the shelves, mantel and table…"
Olmsted's letters capture the history and politics of the time. His 1903 Seattle report became the city's blueprint for planning parks and parkways. His 1910 plans for Oregon Agricultural College directed how the Corvalis campus would be developed. One of his favorite projects was Spokane's Adams Park (now known as Cannon Hill Park) which he converted out of an excavated and abandoned brickyard. Now it is a charming jewel of the city, a quiet neighborhood oasis with stone bridges and a duck pond.
He also worked for private clients, a who's who list of the early 1900s, including Robert Moran on Orcas Island, S.P. Weyerhaeuser in Tacoma, the Cowles family in Spokane, and a good 60 different residences in Seattle. He designed the Capital Hill, and Queen Anne Hill properties of some of Seattle's most prominent citizens, pushing them to keep intact most of the tall trees and vegetation like ferns and salal that made up the natural landscape.
Through the stories of the projects run threads of city politics, government bureaucracy, and a sense of great communities in the making. Olmsted could see the great value of preserving the views and charm already in place. Long before Magnolia was a Seattle neighborhood, for example, he envisioned a broad boulevard along the bluff with views to downtown, Mount Rainier, and west to across the Puget Sound to the Olympic Mountains. He saw the possibilities that the communities would realize years later.
The book is illustrated with photographs and postcards from around the time of Olmsted's visits as well as sketches and blueprints. They further Hockaday's efforts to not only give us a history of our communities and landscapes, but enhance her portrait of a man whose vision and imagination helped make the Pacific Northwest such a great place to live.