By Ralph Olsen
Washington State Magazine
was looking for stories about early day
women's athletes
at WSC.
Mary Alice "Pete" Peel
(WSC, 1950) is a good example of an early women athlete at WSC—approximately 22 years before
Title IX
(1972).
She was a pioneer in Women's sports at WSC and should be honored for her achievements. She skied for Washington State College from 1946-1950. She graduated from WSC with a degree in Physical Education in 1950.
Mary Alice was born August 7, 1928 in Wallace, Idaho Her mother wanted a boy so she nicknamed her "Pete". She grew up in Burke, Idaho (8 miles up a canyon from Wallace, Idaho) and lived next to the Montana Power Substation that brought electric power over the mountains from Thompson Falls, Montana. She learned to ski at an early age when her father built a rope tow for skiing across the street from the Montana Power Station above Burke. This was about 1936 or 1937 when "Pete" was eight or nine years old. Many friends from Wallace and the surrounding area came up to Burke to ski. Her father strung lights on the trees along the ski run so their friends could also ski in the evenings.
Mt. Spokane
.
In 1945 when she lived and attended her junior year of high school in Bellingham, she was invited to attend WSC by Doc Bohler (WSC Athletic Director) and be a member of the women's ski team. In 1946 she graduated from Wallace High School and entered Washington State College (now University).
In the 1940s, the women's physical education at WSC did not approve of competition sports—only intramural activities. Dr. Fred Bohler (WSC Athletic Director) made it possible for "Pete" Peel to participate in the competitive sport off skiing, including with other schools.
Skiing
She skied for WSC Women Ski team under the name Mary Alice "Pete" Peel (1946-1948) and Mary Alice "Pete" Berg (1948-1950). She was the only member of the women's "A" team in skiing and skied many events for Washington State.
In 1950, "Pete" was invited to be a member of the U.S. Ski Team (FIS—Federation International Skiers) "Pete" is third from the left in the photo of the 1950 U.S. Ski Team. The U.S. Ski Team trained at Aspen, Utah for the 1952 Olympics. Andrea Mead (of this team) went on to win a gold medal in the 1952 Olympics. Doc Bohler described "Pete" as an "excellent skier" with "fine techniques".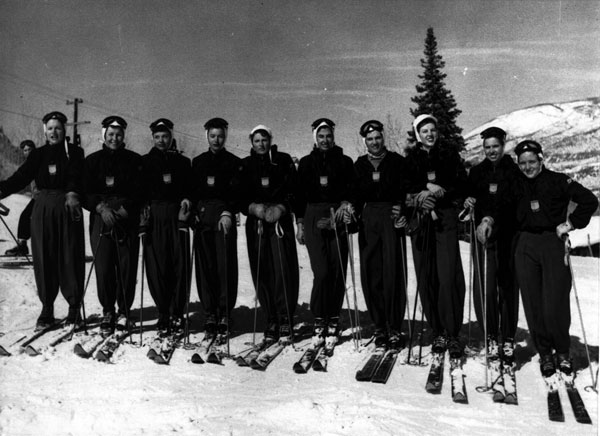 U.S. Olympic Ski Team 1950. From left: Sally Neidlinger, Paula Kann, Pete (Peel) Berg, Suzy Rytting, Rhona Wurtele, Jannette Burr, Andrea Mead, Brynhild Grasmoen, Katy Rudolph, Dodie Post
Swimming
She was also a member of the WSC women's swimming team. In those days, the women's swim team did not travel. Each team in the conference swam times in their own pool and then these times were compared to see who won the various events and meets.
Harvest Ball
In 1948, she competed and won the title of "Queen of the Harvest Ball".
Queen of the Harvest Ball, 1948
After WSC
She met her current husband, Ralph Olsen, while skiing at Sun Valley. They were married in 1993 and they reside in Woodway, Washington. They are both skiers.
Is That You Pete???
In 2008, while skiing at Lookout Pass ski area (near Wallace, Idaho), "Pete" stopped to pick up the skis that a lady had dropped in the snow. The lady thanked her and a light went off in her head and she turned and said, "Is that you "Pete"???
"Pete" responded, "Well yes, but how do you know me and how do I know you???"
She responded, "I used to work on the WSC campus newspaper and I covered your skiing career for the paper!!!"
That's fifty seven (57) years later and a chance meeting!!! Boy, those Cougars have fantastic memories!!!