Nov 19, 2016
2016 Anthony Savage Award from the Washington Association of Criminal Defense Lawyers (WACDL) | Emily Gause '06
Categories: 2000s | Professional or career event
I am honored to be receiving Washington Association of Criminal Defense Lawyer's 2016 Anthony Savage Award.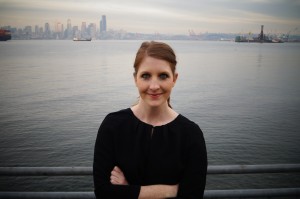 The award recognizes an outstanding trial performance or result achieved by an attorney in practice for less than ten years. I am being recognized for my work in USA v. Frazier, a serious felony case in the Western District of Washington that was dismissed on defense motion for a Brady violation.
"Emily wrote extensive briefing over many months, including a motion to suppress which raised questions about a confidential informant's credibility. Just days before the suppression hearing and trial, the government disclosed new evidence that confirmed the informant had failed a polygraph. Emily immediately filed a motion to dismiss the case based on violations of Brady v. Maryland. Emily also filed motions demanding that the confidential informant be named and that more information be produced about his criminal history and department of corrections file. This revealed even more evidence that this informant had significant veracity issues, and was engaging in criminal activity at the time he was cooperating with police. Judge Jones listened to days of testimony and hours of argument before ultimately dismissing the case because of the Brady violation, after finding that the only evidence against her client came from the unreliable and untrustworthy informant. Her client was released from federal custody that same day.
According to Lee Covell, co-counsel on the case, "her work on this case was nothing short of phenomenal."
Emily Gause owns her own firm — the Law Offices of Emily M. Gause PLLC — where she practices solely in felony criminal defense, both in federal courts and state courts across Washington State. Emily has carved an impressive reputation in the criminal defense legal community as a rising star. After graduating with a degree in criminal justice from Washington State University, Emily dove into law school with the intent of becoming a criminal defense attorney.  Emily graduated from WSU in 2006 with duel degrees in criminal justice and sociology – law and social control.
Tags: 2006, Award or honor, criminal defense lawyer, lawyer
Nov 19, 2016
Memoir published | Eric Dieterle '80
Categories: 1980s
Eric Dieterle ('80 History) published a memoir, "Where the Wind Dreams of Staying" (Oregon State University Press) in October 2016. In November, the book was named to the High Country News recommended reading list. Eric is an assistant professor of practice at Northern Arizona University.
Tags: 1980s, Arizona, history, memoir
May 26, 2016
Dr. Dale Daniel receives Physician Exceptional Contribution Award (PECA) | My Story staff '12
Categories: 1970s | Award or honor | College of Arts and Sciences | Featured
Dr. Dale Daniel ('73 Zool.) joined Southern California Permanente Medical Group in 1979 and became a partner in 1985.
Dr. Daniel attended medical school at the University of Washington, and finished his post-graduate training with an internship at the Cleveland Metropolitan Hospital. After completing a residency in Internal Medicine at Case Western University, he started a surgical residency with Kaiser Permanente Los Angeles Medical Center where he served as Chief Resident in Surgery from 1982 to 1983.
He currently holds the role of Assistant Chief of Service of Surgery at Riverside. As staff surgeon, Dr. Daniel serves as Assistant Chief of General Surgery and is involved in several professional activities, which includes participation in the American College of Surgeons, serving as Chair of the Regional Pharmacy and Therapeutics Committee, and involvement in numerous successful initiatives for KP.
Being an active leader in his field, Dr. Daniel was honored with the Group Contributor Award given by General Surgery-Fontana, Ontario Vineyard Surgery Center. He was also recognized with The Innovation Award by the Fontana Medical Center for Laparoscopic Gastroesophageal Fundoplication and the Fontana Outpatient Minor Surgery Portacath and an Excellence Award for his leadership in establishing The Ontario Vineyard Surgery Center.
Dr. Daniel has contributed to the education of health care worldwide, impacting patient's safety, health, and recovery. He has presented lectures that have been widely accepted among surgeons. Lectures include
1) The comparison of Cefotetan and Cefoxitin in non-perforated appendicitis
2) The comparison of patients with post op and non-post op infection in non-perforated appendicitis
3) The physician and patient roles in detection of initial recurrence of melanoma
4) The safety on discharging adult patients same day undergoing laparoscopic Nissen gastroesophageal fundoplication
5) The utilization of Proton Pump Inhibitors before and after laparoscopic Nissen gastroesophageal fundoplication and
6) The safety of discharging appendectomy patients directly from the recovery room.
In 2014, Dr. Daniel article "Homeward bound: The Safety of Discharging Postappendectomy Patients Directly Home from the Recovery Room" was featured in American Surgeon.
Dr. Daniel and his wife, Sharon, have two beautiful daughters, Chloe and Olivia, who are both nationally ranked for their accomplishments in the sport of fencing.
Tags: 1973, Award or honor, California, Doctor, Permanente Medical Group, physician, pre-medicine, zoology