Featured notes
Nov 10, 2014
Dr. Nancy Rodriguez Appointed as Director of the National Institute of Justice by President Obama | My Story staff '12
Categories: 1990s
http://www.whitehouse.gov/the-press-office/2014/10/16/president-obama-announces-more-key-administration-posts
President Barack Obama announced in October the appointment of Dr. Nancy Rodriguez '98 PhD as director of the National Institute of Justice. The NIJ is the federal agency that serves as the research, development and evaluation arm of the U.S. Department of Justice. It's dedicated to improving knowledge and understanding of crime and justice issues through science. NIJ provides objective and independent knowledge and tools to reduce crime and promote justice, particularly at the state and local levels.
Dr. Nancy Rodriguez is a professor in the School of Criminology and Criminal Justice at Arizona State University (ASU), a position she has held since 2012.  She first joined the ASU faculty in 1998.  Dr. Rodriguez recently completed her tenure as Associate Dean for Student Engagement in the College of Public Programs at ASU. Prior to this, she was an Associate Professor from 2004 to 2012 and an Assistant Professor from 1998 to 2004.  Dr. Rodriguez is an Executive Counselor of the American Society of Criminology (ASC).  She is a recipient of several awards for her research, including the W.E.B. Dubois Award from the Western Society of Criminology, and the Coramae Richey Mann Award from the ASC Division on People of Color and Crime.  Dr. Rodriguez received a B.A. from Sam Houston State University and a Ph.D. from Washington State University.
Tags: 1998, criminal justice, National Institute of Justice, PhD
Nov 20, 2014
Destiny Johnson graduating from WSU nursing program | My Story staff '12
Categories: 2010s | Featured | Graduation
 From Tiffany Christianson '09:
I am a 2009 WSU alumna from the masters program for Family Nurse Practitioners. This is my little sister Destiny who followed in her big sister's footsteps and is graduating this December! She is so beautiful and successful at everything she sets her mind to!  Her name is Destiny Johnson class of 2014 WSU Nursing BSN program.
Tiffany Christianson, MN, FNP-C
Hospitalist for IPC at Holy Family Hospital in Spokane, WA (Graduated in 2003 with my BSN and 2009 with my MN as a FNP)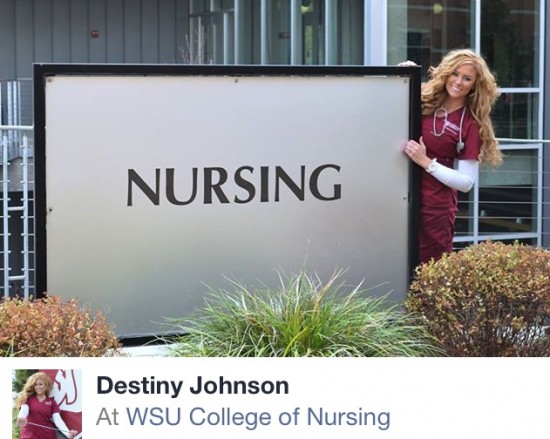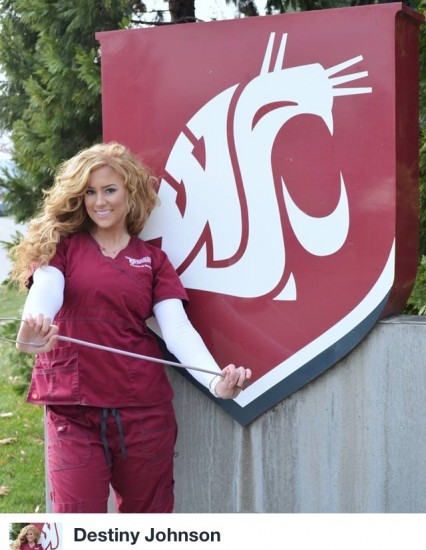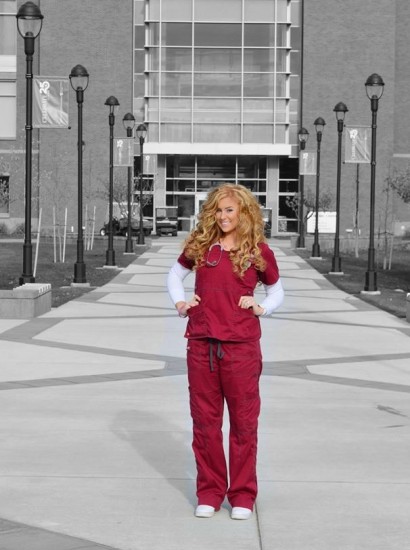 Nov 10, 2014
Stephan Hall '98 Starts his own Printing Business in Seattle | My Story staff '12
Categories: Award or honor
Stephan Hall '98 started his own printing business, Columbia Label Division in Seattle. Columbia Label Division is the first rotary flexographic printing facility for wine and food labels in South East Washington including the Columbia Valley, Yakima Valley, and Walla Walla. Hall also has approximately 300 wineries within hours of Seattle and contributed to the WSU Wine Science Center as well. Hall graduated from the MBA program at WSU in 1998.
Tags: 1998, business, MBA, Printing, winery
Nov 10, 2014
Algerian Hart Was Honored Over the Summer with the 2014 COEHS Excellence Awards | My Story staff '12
2014 COEHS Excellence in Internationalizing the Campus Award
Prior to coming to Western in 2011, Hart served as the director of diversity research and educational resources in the University of Las Vegas Office of the Vice President for Diversity and Inclusion. At WIU, Hart has a dual appointment in the kinesiology and recreation, park and tourism administration (RPTA) departments. According to Department of Kinesiology Chair Janet Wigglesworth, since Hart has been a full-time faculty member in the kinesiology department and coordinator of that department's sport management master's degree program, he has "added an international element to both the department and the degree program in which he teaches. In her nomination letter, Wigglesworth wrote: "To expose his students to the global sport arena, he…attended and presented at five international conferences [in 2011, 2012 and 2013]. In addition to Dr. Hart's presentations at these conferences, he also traveled to some of [them] with WIU sport management graduate students to provide them with valuable experience not only as attendees of the conferences but also as presenters. One cannot measure the impact that international experience has on these students, but their comments upon returning to WIU were valuable to all the students as they shared their stories," she said.
Hart earned his doctorate in educational administration and leadership from Washington State University (WSU) in 2004; his master's degree in recreation administration and leisure studies from WSU in 1997; and his bachelor's degree in sociology from California State University Long Beach in 1994.
http://www.wiu.edu/news/newsrelease.php?release_id=11934
Tags: 1997, Award or honor, education, Kinesiology, leadership