Featured notes
Nov 10, 2014
Dr. Nancy Rodriguez Appointed as Director of the National Institute of Justice by President Obama | My Story staff '12
Categories: 1990s
http://www.whitehouse.gov/the-press-office/2014/10/16/president-obama-announces-more-key-administration-posts
President Barack Obama announced in October the appointment of Dr. Nancy Rodriguez '98 PhD as director of the National Institute of Justice. The NIJ is the federal agency that serves as the research, development and evaluation arm of the U.S. Department of Justice. It's dedicated to improving knowledge and understanding of crime and justice issues through science. NIJ provides objective and independent knowledge and tools to reduce crime and promote justice, particularly at the state and local levels.
Dr. Nancy Rodriguez is a professor in the School of Criminology and Criminal Justice at Arizona State University (ASU), a position she has held since 2012.  She first joined the ASU faculty in 1998.  Dr. Rodriguez recently completed her tenure as Associate Dean for Student Engagement in the College of Public Programs at ASU. Prior to this, she was an Associate Professor from 2004 to 2012 and an Assistant Professor from 1998 to 2004.  Dr. Rodriguez is an Executive Counselor of the American Society of Criminology (ASC).  She is a recipient of several awards for her research, including the W.E.B. Dubois Award from the Western Society of Criminology, and the Coramae Richey Mann Award from the ASC Division on People of Color and Crime.  Dr. Rodriguez received a B.A. from Sam Houston State University and a Ph.D. from Washington State University.
Tags: 1998, criminal justice, National Institute of Justice, PhD
Mar 4, 2015
Michael Baim has joined Q Laboratories, Inc. | My Story staff '12
Categories: 1980s | College of Arts and Sciences | Professional or career event
Michael Baim has joined Q. Laboratories, Inc. as chemistry laboratory supervisor. Baim's new responsibilities include the everyday operations of the Pharmaceutical and Food Chemistry labs. Baim will be in charge of analyst training, technology upgrades, client outreach, and supervision of personnel.
Prior to this, Baim was Vice President of research and development at Perrigo Company – Nutritional Division, director, analytical and development sciences at Mead Johnson Nutrition, as well as the director of analytical resources and General Manager at Medallion Laboratories for General Mills, Inc.
Baim holds a PhD. in Analytical Chemistry from Washington State University.
Feb 27, 2015
Cruising Coug Veterans | Tom Brattebo '69
Categories: 1960s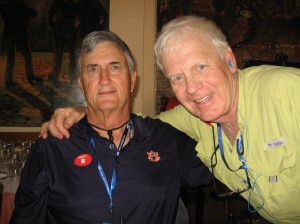 Bud Guy, MA 73, and Tom Brattebo, BA 69, met at a veterans' gathering aboard the Regal Princess in the eastern Mediterranean last May. They enjoyed sharing war stories, WSU stories and visited the site of the first Olympics in Greece.
Tags: 1969
Feb 25, 2015
Justin Rammer is the General Manager at Sullivans. | My Story staff '12
Categories: College of Business | Professional or career event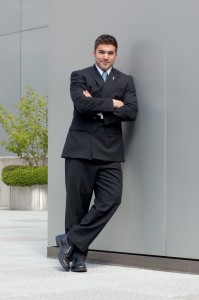 Justin Rammer came to Washington State University in hopes of pursuing an architecture degree before he discovered his true passion in the hospitality industry. Rammer worked at Banyans, a restaurant on the Pullman golf course, during his time at WSU. Working at Banyans aided Rammer in discovering what he truly wanted to do with the rest of his life. Through supporting himself by working 40-50 hours a week, attending school full time, and working his way up to a manager position at Banyans, Rammer graduated with a Hospitality Business Management degree.
Straight out of graduation, Rammer held a position as the Food and Beverage manager for the Seattle Yacht club, and after two years in this role and mastering classic elements of hospitality, Rammer took the position of Assistant General Manager at Sullivan's in Seattle, and is now the General Manager.
"My education and network I developed at WSU gave me the confidence to leave Pullman knowing I could take on anyone with experience or coming from a different university. I am thrilled to run a Coug business in the middle of Husky territory and thrive off the opportunity to work with other WSU graduates with the instant bond of spending time out in Pullman. I am looking forward to a career that provides me the chance to give back to future Cougs." says Rammer.
Tags: business management, hospitality
Feb 25, 2015
In memoriam: Roger C. Wiley | My Story staff '12
Categories: Death/In Memoriam | sports
Dr. Roger C. Wiley, former professor and chair of the Department of Men's Physical Education and Recreation at Washington State University died Saturday, February 14, 2015 at home, surrounded by family. The first thing anyone ever said to Roger, from his earliest years, was, "You sure are tall!"  And, even as a boy, he towered over his peers. Roger was born on February 4, 1924 to Lloyd and Alberta Wiley, hardworking folks in Bremerton, Washington. By the time he was in high school, Roger was 6'8" and head and shoulders taller than classmates and eventually caught the eye of the high school basketball coach who talked him into coming out for the Bremerton High team, which Roger helped lead to Bremerton's first-ever Washington State Boys Basketball championship, in 1941. After high school graduation, Roger became one of the first Washington state athlete to receive an athletic scholarship to an out-of-state school, when he went to the University of Oregon to play basketball. His college career and education was interrupted by his desire to serve in World War II. Because he was so tall, he was too tall for the Army so his family petitioned the War Department to make an exception so he could serve. His mother made all of his uniforms. And, after a stint at Fort Lewis, Roger served in the China-Burma-India theatre, helping build roads.
After the war, Roger returned to the University of Oregon, played two more years of basketball, where he met his first wife, a tall, beautiful woman named Barbara Borrevik.  Roger graduated with a Physical Education degree in 1949. After their wedding, they moved to Bend, OR where he taught Physical Education, and coached basketball and baseball. Three of their four children, Roger Jr., Brad, and Gloria, were born during this time. Later, Roger returned to the Eugene/ Springfield area so he could get his Masters and PhD at Oregon, while also teaching and coaching, and supervising the public swimming pool in Springfield. Their 4th child, Steve, was born during this time.
After receiving his PhD in Physical Education in 1963, Roger and his family moved to Pullman, WA where he became the Department Chair of Men's Physical Education and Recreation. For almost two decades, Roger remained in that position. He also evaluated Pac-8 Conference referees, worked to accredit other programs around the country, was very involved the Pullman Parks & Recreation program, especially in developing Little League. "Roger Wiley Field" is named in his honor. He was also active in the national organization for Physical Education educators, AAHPERD (American Alliance for Health, Physical Education, Recreation, and Dance), and was National President from 1975-76.  In 1982-83 he was a visiting professor at West Point Military Academy for the academic year.
After returning to WSU from West Point, Roger became very interested in computers and helped set up the first computer lab in the Department of Leisure Studies. He enjoyed mentoring graduate students and became the overseer at WSU's Camp Larsen, a camp facility on Lake Coeur d'Alene, which served disabled children and adults. Roger was also an active Presbyterian, first in Pullman and later in retirement in Sequim, WA.
Roger and his wife, Barbara, were known and loved as wonderful hosts in Pullman. Roger loved having people around, loved serving and caring for others. When he and Barbara retired to Sequim, they continued to host many friends who made the trek to see them. There was always popcorn and nuts, or crackers and Cougar Gold cheese ready for anyone who came through their door.
After Barb's death, Roger found a new love in his second wife, Thyrza. They were married on February 14, 1993 and had many happy years together, traveling across the country and the world, visiting family and going on elder hostels. Thyrza was a loving and faithful companion for Roger. In fact, he died on their 22nd wedding anniversary.
Roger's greatest joy, besides his "Bride" were his nine grandchildren. Each of them was his favorite. From the time they were small, Grampie's large hands knew how to hold them, his large expressive mouth was ready with a grin when he saw them, and his lap always had room for them. The older they got, the more proud he became of their accomplishments, the more he just plain liked them.
Tags: Faculty, in memoriam, sports