Featured notes
Jun 18, 2015
Geologist Michael Pickering Joins Maul Foster Alongi | My Story staff '12
Categories: 1990s | College of Arts and Sciences | Professional or career event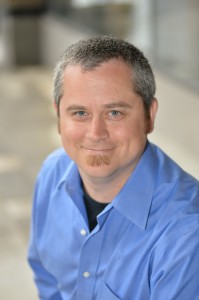 Maul Foster & Alongi, Inc. has hired Michael Pickering, RG, LG, a senior geologist with 16 years of experience in environmental consulting and project management throughout the Northwest. Mr. Pickering has completed due diligence and pre-acquisition screenings for property redevelopment, and has conducted site characterization, remedial investigations, and cleanup actions at contaminated sites for both private and government clients. He has managed a wide variety of hazardous waste- and petroleum-contaminated sites, including marine terminals, airport facilities, bulk terminals, petroleum pipeline release areas, leaking underground storage tank sites, dry cleaners, and wood pole treatment and storage yards. Mr. Pickering has significant experience conducting work at port facilities, including upland source control investigations for a portfolio of marine terminals on the Willamette River. He has also provided environmental, legal, and property support at numerous airport sites.
Mr. Pickering's expertise aligns well with MFA's services, and he is a key team member in the firm's continued expansion. He will be working from MFA's office in Portland.
Tags: 1990's, geology, Maul Foster Alongi
Apr 21, 2016
Sid Gustafson's third novel Swift Dam | Sid Gustafson '79
Categories: 1970s | Award or honor | Professional or career event
Swift Dam

Sid Gustafson

ISBN-13: 978-0692644614 / ISBN-10: 069264461X

SRP (Paperback) $15.95 / SRP (eBook) $6.99

It had been a long snowy winter and spring. The rivers were late rising, and the mountains held onto a pure white snow-cover. Rain fell upon the deep winter snow the day before the Flood of '64. Waters rose, the rivers raged. The dam failed to hold the Birch Creek flow, and broke, giving way to a wall of water and drowning the Indians.

Veterinarian Alphonse Vallerone dreams out this novel of dreamers dreaming. He goes back 50 years to the day after the Flood, when he assisted the surviving Indians. Riding from one devastated ranch to another, he tends to the surviving yet devastated animals and tries to mend the grief wrought by the Flood.

Underpinned by the lingering and harsh reminders of the Blackfeet Nation's heroic, tragic, and vibrant past, Gustafson's third novel chronicles the heartrending drama of the Blackfeet people.

Swift Dam
 celebrates the native land and the Natives who survive as they have survived throughout time, perilously. It is the story of a veterinarian who attempts to sustain and nurture life on the land, his empathy with the living, and his sympathy for the dead and dying.
Tags: 1970s, 1979, fiction, Montana, novel, novelist, sid Gustafson, veterinarian, veterinary medicine, water
Apr 15, 2016
Gina Smith Rejoins SPVV Landscape Architects | My Story staff '12
Categories: 2000s | College of Agricultural, Human, and Natural Resource Sciences | Featured | Professional or career event
Gina Smith '07 Landscape Architecture, has rejoined SPVV Landscape Architects of Spokane, Wash., as a landscape designer. Smith, who previously served as a landscape designer, holds a LEED accreditation, and will be responsible for designing, estimating and managing the development of landscapes for governmental, commercial and educational commissions.
Initial projects for which Smith will be providing landscape design services include Northwood Middle School for the Mead School District; Corbin Park renovations for the City of Spokane Parks and Recreation Department; and Franklin Elementary for Spokane Public Schools.
Established in 1995, Spokane-based SPVV Landscape Architects provides professional landscape architecture and planning services to clients throughout the western United States and internationally. Market sectors served include healthcare, continuing care, higher education, K-12 education, government, corporate, commercial, technology and multi-family housing. For more information, visit www.spvv.com.
Tags: 2007, landscape architecture, landscape designer, Spokane
Apr 15, 2016
Sam Hunt waves the flag on the Great Wall of China | My Story staff '12
Categories: 1960s | College of Arts and Sciences | Other event | photography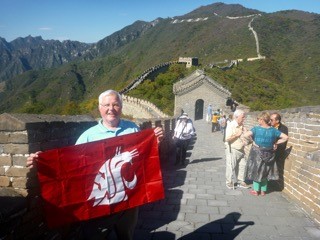 Sam Hunt '67 waves the Cougar flag at the Great Wall of China last October. Sam is a state representative from Olympia.
Apr 15, 2016
Northwestern Mutual Honors Ebel with Forum Membership | My Story staff '12
Categories: 1960s | Award or honor | College of Agricultural, Human, and Natural Resource Sciences | Featured
Northwestern Mutual is honoring Albuquerque financial representative William E. Ebel '65 Ag. Econ., CLU, ChFC, MSFS, AEP with membership to its 2015 Forum Group, which recognizes individuals for an outstanding year of helping clients plan for and achieve financial security. Ebel is affiliated with Albuquerque Network Office based in Albuquerque, NM. This is the 15th time that Ebel received the Forum honor.
"We're proud of financial professionals like Bill who excel at guiding their clients on a path to financial security," said Northwestern Mutual President Greg Oberland. "According to our 2015 Planning and Progress Study, people who work with an advisor are twice as likely to feel 'very financially secure.' Financial experts like Bill are helping to make the goal of financial security a reality for many Americans."
Forum honorees will be recognized at a leadership conference held in November. At the conference, honorees will learn new insights from prominent speakers, gain access to advanced training and leadership development and share knowledge with fellow colleagues.
The annual Forum conference is an exclusive achievement, with approximately 5 percent of Northwestern Mutual's more than 6,000 financial representatives invited to attend.
Tags: 1965, agricultural economics, Northwestern Mutual