Featured notes
May 1, 2015
Bud Withers retires from The Seattle Times | My Story staff '12
Categories: 1970s | athletics | Edward R. Murrow College of Communication | Featured
Bud Withers ('70 Comm.) retired from The Seattle Times after 45 years as a sportswriter.
"Two words: Good gig. No, make that great gig. Where else do you get a front-row seat to describe triumph, heartbreak, euphoria, tragedy, all of it wound around the confounding notion that these are games, and they're very important to a lot of people? Where else do they send you to three Summer Olympics, to 20 Final Fours, to 73 separate weekends of the NCAA basketball tournament? The whole thing was a collage of the sublime and the stupid, the magnificent and the quirky," describes Withers.
Read more in The Seattle Times (April 11, 2015)
Tags: 1970s, communications, sportswriter, The Seattle Times
May 21, 2015
Jocelyn Gray Voted President-Elect of the Washington Society of Professional Engineers | My Story staff '12
Categories: 2000s | Engineering and Architecture | Professional or career event
Potlatch, WA-  In April, Mason County PUD No. 1 director Jocelyne Gray was voted president-elect of the Washington Society of Professional Engineers (WSPE) by her association peers. Her term will run from July 1st of this year through June 30th 2016, when she will then become president of the state society. In addition to WSPE, she has also been very active in the Society of Women Engineers since 1996, encouraging young females to enter the profession.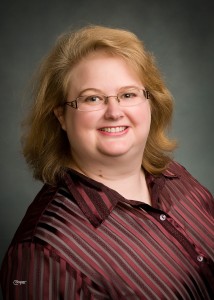 Established in 1937, WSPE is a professional association representing the interests of engineers from all fields of practice and is the state society of the National Society of Professional Engineers (NSPE). WSPE includes among its membership licensed professional engineers, licensed structural engineers, licensed land surveyors, engineer interns, graduate engineers and engineering students. The Society's primary objective is to advance and promote the public welfare. Very active in the legislative process and government affairs, WSPE devotes hundreds of hours of testimony before legislative committees and governmental rule-making agencies on a vast array of subjects such as construction, environment, licensing, public health, and transportation.
"I am honored to be chosen by my fellow engineers who have entrusted me to help shape the future of WSPE and our engineering profession," stated Gray, "particularly as we work with the stakeholders and the legislature over the next several years to revise Chapter 18.43 RCW 'Engineers and Land Surveyors Act'." Gray has been a member of WSPE since 2011. At PUD 1 she serves as the director of water and wastewater operations and is the District's in-house licensed civil engineer.
Tags: 2000s, career events, Washington Society of Professional Engineers