Featured notes
Aug 29, 2014
Colorado "I Have A Dream" Foundation to Honor Navin Dimond | My Story staff '12
Categories: 1980s | Award or honor | College of Business | Engineering and Architecture | Featured
Navin Dimond '85 will receive the Colorado "I Have A Dream" Foundation (CIHAD) Dream Maker Award during the organization's annual gala Thursday, October 30 at Denver's Hyatt Convention Center. CIHAD believes that every child deserves a quality education and that every child has a fundamental right to reach his/her highest potential. Since its founding in 1988, the foundation has developed and fine-tuned a multi-year "hands-on cohort model" for its participants, who are affectionately called Dreamers. The Dream Maker Award is presented to a community leader whose commitment to quality education has an enduring impact on area youth.
"Navin Dimond was selected to receive the Dream Maker Award because he embodies the mission and values of CIHAD," said Rachael Gazdick, the foundation's president and chief executive officer. "His deep commitment to providing opportunities for all children to succeed, both in the United States and abroad, are unparalleled."
Dimond is the founder, president and chief executive officer of Denver-based Stonebridge Companies, a development and hotel management company with a portfolio of 49 hotels in the United States. A graduate from Washington State University with a bachelor of arts in business administration and a bachelor of science in construction management, he earned his MBA in real estate and construction management from the University of Denver. Under Dimond's leadership, Stonebridge has achieved substantial growth and earned prestigious awards in the hotel industry.
Tags: 1985, business administration, Colorado, construction management, Dream Maker Award, I Have A Dream Foundation
Oct 21, 2014
WSDA Selects Dr. Joe Baker as New State Veterinarian | My Story staff '12
WSDA names new state veterinarian
OLYMPIA – The Washington State Department of Agriculture (WSDA) has selected a veterinarian with almost 40 years experience in veterinary medicine as the new state veterinarian.
Dr. Joe Baker, who is married and has two grown sons, has held positions with the New Mexico Livestock Board since 2006. He has headed New Mexico's Food Safety, Meat and Poultry Inspection Division, worked as a field veterinarian and served for a time as interim state veterinarian. He completed his bachelor's and doctorate degrees in veterinary medicine at Washington State University and also completed an equine reproduction residency at the University of California at Davis.
Dr. Baker will start with WSDA on Nov. 3.
"Dr. Baker comes to us with the experience and background to be a great state veterinarian," WSDA Director Bud Hover said. "He has many years in private practice but also has a deep understanding of regulatory medicine and policy, both of which will help him work successfully with the livestock industry."
Dr. Paul Kohrs has been Washington's acting state veterinarian.
"While performing as acting state veterinarian, Paul and his staff went through some trying times, including the mudslide disaster in Snohomish County and a bovine tuberculosis quarantine case in 2013," Hover said. "I am glad that Paul will remain with us and continue to share his expertise."
As the new state veterinarian, Baker will manage WSDA's Animal Health Program, working with field veterinarians. The broad goals of the program are to protect and enhance animal health and animal well being, promote the economic vitality of the livestock industry, and safeguard Washington residents by identifying and limiting exposure to zoonotic diseases that could affect humans.
Washington's livestock industry is a major component of the state's diverse agriculture. Milk is Washington's third ranking agricultural commodity and cattle and calves rank sixth. Combined, the two sectors' value exceeds $1.7 billion. In addition, Washington's poultry industry generates more than $150 million, counting fryers and egg layers.
Tags: alumni, Animal Health, DVM, medicine, veterinarian
Sep 26, 2014
Kris Strickler will lead MacKay Sposito's Wide Transportation Services | My Story staff '12
Categories: 1990s | College of Arts and Sciences | Engineering and Architecture | Featured
MACKAY SPOSITO HIRES TRANSPORTATION LEAD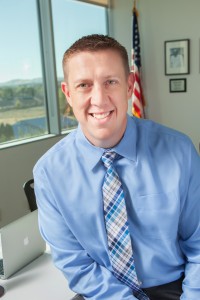 Vancouver, WA – MacKay Sposito, a Vancouver, WA based consulting firm specializing in energy, public works and land development, announced today the addition of a new leader in their company.
Kris Strickler '98, P.E. will lead the firm's company-wide transportation services as the Director of Transportation. Kris has over 15 years of leadership experience in the transportation sector. A well known advocate in Salem, Oregon and Olympia, Washington, Kris will forward his passion for regional multi-modal, transportation solutions at MacKay Sposito. His diverse resume includes leadership roles at ODOT, Project Director for the Columbia River Crossing, as well as engineering design positions within WSDOT. He is a licensed Civil Engineer with a Bachelor of Science Degree from Washington State University.
"Kris is a valuable addition to our leadership team. With his extensive resume and respect within the industry, we are pleased he chose our firm to help guide the future of transportation and mobility." said Tim Schauer, President and CEO of the firm.
MacKay Sposito's expertise spans design, planning and project management, master-planning, civil engineering, landscape architecture, land surveying, construction management and land development for both public and private sector clients. They employ over 165 dedicated professionals in the Northwest and have offices in Vancouver, Kennewick and Federal Way, Washington, in Hillsboro, Oregon, and in Soda Springs, Idaho and Salt Lake City, UT. Clients are serviced as far as Alaska, Montana, Wyoming and California.
Tags: 1998, alumni, Civil Engineer, science, transportation