Feb 14, 2017
Don Ott ('82 Communications) | Don Ott '82
Categories: 1980s
Named the first full-time Commissioner of the California Pacific Conference of the NAIA. Ott worked four years as a student assistant in the WSU athletics department, including an internship with the Pac-10 Conference. He worked for 16 years with the West Coast Conference, before transitioning to full-time ministry as a pastor in California. He oversees 12 colleges/universities in three western states with the Cal Pac.
Tags: 1982
Feb 11, 2017
3rd novel Swift Dam reviewed in Washington State Magazine | Sid Gustafson '79
Categories: 1970s
Through the eyes of the vet, we begin to see the world not as a mechanical structure machined by man, but as a revolving reaction between man, nature, and beast.
https://magazine.wsu.edu/2017/01/27/swift-dam/
Tags: 1979, 79, DVM, fiction, literature, Montana, novel
Jan 12, 2017
Dr. William A. Ausmus MA, Ph.D. 1991 | Dr. William Ausmus '91
Categories: 1990s | Professional or career event
­­I am pleased to share the following milestones in my life with my friends at Washington State University.  After teaching for thirty years at three different universities, I have retired as a professor of Communication Studies at California Polytechnic State University.  I am now a full-time novelist.  My first novel, The Adamantine Heart, written under the pen name William Russell Sheridan, is available world-wide through Amazon Books. If you are interested in contacting me, I would love to hear from you and can best be reached at williamrsheridan@gmail.com.
Tags: 1991
Nov 19, 2016
2016 Anthony Savage Award from the Washington Association of Criminal Defense Lawyers (WACDL) | Emily Gause '06
Categories: 2000s | Professional or career event
I am honored to be receiving Washington Association of Criminal Defense Lawyer's 2016 Anthony Savage Award.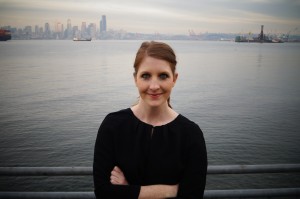 The award recognizes an outstanding trial performance or result achieved by an attorney in practice for less than ten years. I am being recognized for my work in USA v. Frazier, a serious felony case in the Western District of Washington that was dismissed on defense motion for a Brady violation.
"Emily wrote extensive briefing over many months, including a motion to suppress which raised questions about a confidential informant's credibility. Just days before the suppression hearing and trial, the government disclosed new evidence that confirmed the informant had failed a polygraph. Emily immediately filed a motion to dismiss the case based on violations of Brady v. Maryland. Emily also filed motions demanding that the confidential informant be named and that more information be produced about his criminal history and department of corrections file. This revealed even more evidence that this informant had significant veracity issues, and was engaging in criminal activity at the time he was cooperating with police. Judge Jones listened to days of testimony and hours of argument before ultimately dismissing the case because of the Brady violation, after finding that the only evidence against her client came from the unreliable and untrustworthy informant. Her client was released from federal custody that same day.
According to Lee Covell, co-counsel on the case, "her work on this case was nothing short of phenomenal."
Emily Gause owns her own firm — the Law Offices of Emily M. Gause PLLC — where she practices solely in felony criminal defense, both in federal courts and state courts across Washington State. Emily has carved an impressive reputation in the criminal defense legal community as a rising star. After graduating with a degree in criminal justice from Washington State University, Emily dove into law school with the intent of becoming a criminal defense attorney.  Emily graduated from WSU in 2006 with duel degrees in criminal justice and sociology – law and social control.
Tags: 2006, Award or honor, criminal defense lawyer, lawyer