May 2, 2013
DVM Coug's debut novel released | My Story staff '12
Categories: 1990s | 2000s | Other event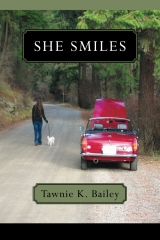 She Smiles, a coming of age novel, uncovers the secret life of a broken family. It was written by Dr. Tawnie K. Bailey '96, '04 DVM.
Over-achieving Angelina Hulgey kills it in the classroom, clocks in at two jobs, but still helps manage her violent and addicted family. Unfortunately, this type-A teenager hasn't quite figured out how to find love in the midst of all the chaos.
Narrated by Angelina and her drug addicted older brother, Aaron, She Smiles tells the story of two siblings navigating the tough and tender days of high school in Seattle in the 1990s. A master at disguise, seventeen-year-old Angelina hides her family's violence and her boss's bizarre behavior from even her closest friends. However, she secretly dreams of a normal life—to be liked (ok, loved), feel safe, and someday become a veterinarian. Still hung up on a broken soul named Caleb, she can't seem to move on to find romance, no matter how many blind dates her friends line up.
Aaron's path is not so straight-A. He struggles with juvenile diabetes, as well as addictions to alcohol and crack cocaine. While he wants to make the people around him proud of him, crack is wicked and cheap, and it has seduced him better than any Romeo (or Juliet). His downward spiral drags Angelina into its brutal swirl when Aaron meets Angelina's foe and devises a plan to get even.
As Angelina grapples with her feelings for a self-proclaimed nerd named Charlie, and Aaron descends further in to the dark side of addiction, She Smiles paints a raw, authentic portrait of one family that is as endearing as it is edgy. Both frank and funny, this enthralling novel promises to appeal to anyone who has put on a smile and pretended that everything is all right.
About the author:
Though she now lives in a resort town in North Idaho with her husband, two daughters, a golden retriever and many foster kittens, Dr. Tawnie Bailey is still a Seattle girl at heart. After twelve years of higher education, she has a Bachelor of Science in zoology, a DVM, and a vivid memory of college life at WSU. She lives in Coeur d'Alene with her husband, two daughters, a golden retriever and many foster kittens. When she isn't transported back to an age of incredible vulnerability, she's trying to balance her addiction to Coca-Cola Slurpees by dancing to 1990s R & B sensation, Keith Sweat.
She Smiles is available on Kindle and paperback formats at Amazon.com and available in paperback at Hastings in Coeur d'Alene, Createspace.com, and Alpine Animal Hospital in Coeur d' Alene. Kindle edition is $3.99 and paperback is $15.99.
For more information about She Smiles, please visit www.tkbailey.com or contact Dr. Tawnie K. Bailey at 208-664-4979 or tawnievet@hotmail.com
Tags: 1996, 2004, author, novel, veterinary medicine, young adult