1970s
1970-1979 :: The South grandstands of wooden football stadium at Rogers Field were burned by an arsonist and Butch VI, the last living Cougar mascot, retired. Henry Rono set four world track records in distance running events and football player Jack Thompson's jersey number 14 was retired in recognition of his passing record. Enrollment at WSU reached a high of 18,160 and the 50,000th student graduated.
Featured notes
Jan 2, 2014
Helen Szablya Named 2013 PRSA MD Lifetime Achievement Award Recipient | My Story staff '11
Categories: 1970s | Award or honor | Featured
Helen Szablya '73, nationally recognized Baltimore communications professional, is selected as the 2013 Lifetime Achievement Award recipient from the Public Relations Society of America Maryland Chapter. Ms. Szablya will be honored at the association's Best In Maryland Gala on December 5 at the Monaco Hotel-Baltimore.
"Helen Szablya is one of Maryland's top public relations professionals," said Jacqueline Lampell, a friend and former colleague. "Helen is known for strategic communications planning efforts during her storied career in government as well as the private sector. She has continued to give back to the community in a multitude of ways and her legacy is one of service."
Ms. Szablya is currently in private practice providing communications and marketing services to socially invested organizations. Current and past clients include Cleaner, Greener Baltimore; Baltimore Sustainability Commission; East Baltimore Development Inc.; Waterfront Partnership of Baltimore; and the Baltimore Community Foundation. Her more than 30 years of experience include key management positions at The Enterprise Foundation, The Fannie Mae Foundation, Baltimore City Mayor's Office in Baltimore City, several agencies in the state of Maryland and US Treasury.
Her commitment to social change spurs her extensive volunteer work for organizations such as the Red Cross of Central Maryland, Central Baltimore Partnership, Citizens Planning and Housing Association and Maryland Family Network. As a survivor of peritoneal carcinomatosis, for the past four years she has served on the steering committee of the "Heat It To Beat It" walk launched in 2009 to raise money and awareness for research at Mercy Medical Center.
PRSA MD Best In Maryland Gala will also honor the Maryland PR Educator of the Year, reveal the New PR Professional of The Year, and present awards for excellence in public relations campaigns in 24 categories. The evening will include a keynote address from Gerry Sandusky, voice of the Baltimore Ravens and sports director of WBAL TV.
Ms. Szablya graduated from Washington State University with a degree in speech communications.
Tags: 1973, Baltimore, communications, community service, Lifetime Achievement Award, Maryland, Public Relations Society of America, social change, speech
Jan 28, 2014
Jim and Jane Thornes: Idaho's Outstanding Tree Farmers of the Year | My Story staff '11
Categories: 1970s | Award or honor | College of Agricultural, Human, and Natural Resource Sciences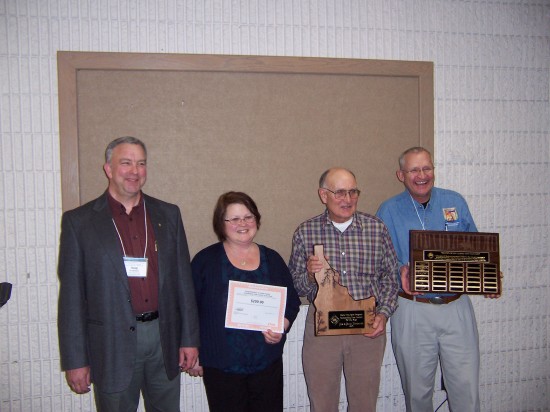 Jim ('72 Forest Mgt.) and Jane Thornes were named 2013 Idaho Outstanding Tree Farmers of the Year for their management practices in Moscow, Idaho on March 25, 2013. Jim's Forest Pathology Professor, Dr. Jack Rogers, assisted at the Idaho/Washington Forestry Field Day held at the Thorneses' Tree Farm near St. Maries, Idaho in July 2012.  Dr. Rogers retired in January 2013, after 50 years at WSU.
Picture printed on 2014 Idaho Tree Farm Program (Online) May 30, 2013 http://idahotreefarm.org/2013-idaho-tree-farm-annual-awards-announced/
Tags: Forest Management, Forest Pathology, Idaho, Moscow
Jan 2, 2014
Tri-Cities Hispanic Chamber of Commerce announces Gary Spanner as a recipient at 2013 Annual Membership Dinner Awards | My Story staff '11
Categories: 1970s | Award or honor | Engineering and Architecture | Featured
The recipients of the Tri-Cities Hispanic Chamber of Commerce (TCHCC) Annual Membership Dinner Awards were announced on Friday, December 6, 2013 at the Red Lion Hotel in Pasco, including Gary Spanner '76. This event celebrates the Hispanic Chamber's progress, recognizes the 2013 volunteer board member participation, and honors chamber members for their efforts to make a positive change in their community.
The 2013 Tri-Cities Hispanic Chamber Annual Membership Dinner Award winners are:
Presidential Award:
Councilman Saul Martinez, City of Pasco
Amigo Award:
Gary Spanner, Pacific Northwest National Laboratory
Volunteer of the Year:
Jorge Del Toro
Board Member of the Year:
Guadalupe Mota, WSU Tri-Cities GEAR UP Early Outreach
Small Chamber Member of the Year:
All Star Motors
Large Chamber Member of the Year:
WSU Tri-Cities
This event recognizes TCHCC members who have shown a dedicated investment in the Chamber and/or community, as well as extraordinary participation in Chamber programs. The Tri-Cities Hispanic Chamber of Commerce congratulates the winners for their positive contribution to the economic growth and well-being of our region.
For more information about the TCHCC Annual Membership Dinner Awards contact the Tri-Cities Hispanic Chamber of Commerce at 509-542-0933, or visit the TCHCC website at www.tricitieshcc.org.
Tags: 1976, Amigo Award, Pacific Northwest National Laboratory, PNNL, Tri-Cities Hispanic Chamber of Commerce
Jan 2, 2014
In memoriam: Raymond Joseph Haeg | My Story staff '11
Categories: 1970s | College of Education | Death/In Memoriam
Raymond Joseph Haeg '70, 79, of Conkling Park, Idaho, died November 29 in Spokane following a three year battle with cancer. Ray was born in 1934 in Plummer, Idaho, to Katherine Marie (Stare) and Raymond William Haeg. He attended grade and middle school at St. Joseph Catholic School in Tekoa, Washington, began high school in Tekoa and graduated from Plummer High School in 1952. He married Peggy Joyce Simons in 1953 and worked on his family's farm at Plummer until 1957. He took a break from farming in 1957 to attend Gonzaga University, from which he graduated in 1961 with a bachelor's degree in education. He continued part-time farm work in Plummer while teaching at various schools in Omak, Pasco and Burbank in the Tri-Cities area of Central Washington. He earned a master's degree in education from Washington State University in 1970 and served as a counselor at Kennewick High School from 1970 until retiring in 1991. Raymond and Peggy Haeg had nine children at the time of her death in 1987. He was active in numerous organizations during his years in Central Washington, including volunteering in the local Boy Scout organization. He also was active in the Kennewick Kiwanis and served as a Key Club Advisor at Kennewick High School. He was an advisor to foreign exchange students over the years. Ray married Sarah Nancy Whitney, a fellow faculty member at Kennewick High School, in 1988. The Haegs moved to Conkling Park near Worley in 1991 and continued their teaching/counseling careers at St. Maries High School from 1991 to 1996. They were both active in St. Michael Catholic Church in Worley. Ray's hobbies included woodworking, gardening, hunting and farming. His life was marked by his devotion to Christ and his involvement in the Catholic Church. Survivors include his wife, Sarah Nancy; brothers Clarence, of Worley, Idaho, and Eugene, of St. Maries, Idaho; sister Anna Marie Willard of Plummer Idaho; children Anita (Smith), James, John, Michael, Cheryl (Darby), Debra (Wagar), Carrie (Gratton), Margaret (Steen) and Kevin: stepchildren Clint Whitney, Laura Popp, Andrea Pike, Erika Monan and Rhonda Leatherwood; 24 grandchildren, four great-grandchildren and numerous nieces and nephews. Besides his parents and first wife, Peggy, he was preceded in death by a brother, Dennis, and a grandson, John Schock. There will be a Vigil Service at 7:30pm at St. Aloysius in Spokane, WA., on December 4, 2013. Funeral Mass will be celebrated at St. Aloysius Catholic Church, 330 E. Boone, Spokane, WA., on December 5, 2013 at 10am followed by the committal at Holy Cross Cemetery. Ray made it known that instead of flowers he would prefer that you make a donation to your favorite charity.
Tags: 1970s, Boy Scouts, Conkling Park, Idaho, Kiwanis, master's of education, school counselor, Tri-Cities
My Story authors from the 1970s