1970s
1970-1979 :: The South grandstands of wooden football stadium at Rogers Field were burned by an arsonist and Butch VI, the last living Cougar mascot, retired. Henry Rono set four world track records in distance running events and football player Jack Thompson's jersey number 14 was retired in recognition of his passing record. Enrollment at WSU reached a high of 18,160 and the 50,000th student graduated.
Featured notes
Jun 3, 2015
KCTS 9 Announced Enrique Cerna as Director of Community Partnerships | My Story staff '12
Categories: 1970s | Edward R. Murrow College of Communication | Professional or career event
KCTS 9 is pleased to announce that veteran journalist Enrique Cerna has been appointed Director of Community Partnerships for the Seattle-based public media station.
"In line with our new strategic direction, we've made a commitment to provide resources to facilitate community collaborations," said Robert I. Dunlop, KCTS 9 President and CEO. "Enrique's depth of experience in public media, combined with his deep ties in the community, make him a great fit for this newly created position."
In this new position, Cerna will develop and cultivate community partnerships; host community engagement events; and direct a program that teaches community storytelling. Cerna will continue to produce and report stories for broadcast and digital platforms.
"I see this as a great opportunity to develop a wide range of civic partnerships," said Enrique Cerna. "I'm especially excited about the storytelling possibilities and the opportunity to share them on multiple platforms."
Cerna has worked in the Seattle broadcast market for 40 years. The son of Mexican immigrants, he was born and raised in the Yakima Valley. Cerna joined KCTS 9 in January, 1995. He has anchored current affairs programs, moderated statewide political debates, produced and reported stories for national PBS programs as well as local documentaries on social and juvenile justice, the environment, and Latinos in Washington state. Prior to joining KCTS 9, he worked as a reporter, producer and host at KOMO Radio and Television and KING Television.
Cerna has earned five Northwest region Emmy awards and numerous other honors. In June, 2013, he was inducted into the National Academy of Television Arts and Sciences Northwest Chapter's Silver Circle for his work as a television professional. He has served on the boards of United Way of King County, the World Affairs Council of Seattle, Seattle City Club and the Chief Seattle Council's Scoutreach program. Cerna is a graduate of Washington State University.
Tags: 1970s, communications, KCTS 9
Aug 28, 2015
Randy Morgan retires from teaching after 38 years | My Story staff '12
Categories: 1970s | Professional or career event
Randy Morgan '77 Music writes:
I have been teaching at Enterprise High School since my graduation from WSU in 1977, I have taught instrumental music, grades 5-12, and High School choir. I have also taught Math, from 7th grade math through Pre-Calculus. I have coached Jr Hi football and basketball, and have coached High School football (10 years as head coach), and High school softball.
I retired from teaching from Enterprise in 2015 after teaching for 38 years.
Tags: 1977, retirement, teaching
Aug 6, 2015
Dr. Thomas F. Meyer Named AVMA President-Elect | My Story staff '12
Categories: 1970s | College of Arts and Sciences | Professional or career event
Dr. Thomas F. Meyer has been named president-elect of the American Veterinary Medical Association (AVMA). Meyer, who was elected to the post by the AVMA House of Delegates (HOD) at its summer session on July 10, succeeds Dr. Joseph H. Kinnarney, who has officially assumed his role as AVMA president.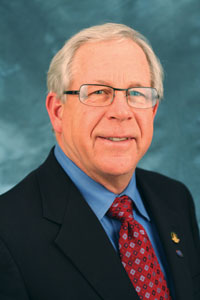 As president-elect, Meyer will assist the president in supervising all the business affairs of the AVMA. He also will serve on the AVMA Board of Governors, which acts as the executive committee of the association, and will be the presiding officer at all sessions of the HOD. Meyer will become AVMA president in 2016, upon expiration of the current president's term of office.
"Over time, veterinary professionals have created better solutions to meet the changing needs of society. We need to continue our good work in developing new technologies to detect, prevent and treat diseases in animals and people. It is also important that we increase awareness of the other ways veterinary professionals play a critical role in our society. For instance, the public may be less familiar with the role veterinarians play in inspecting food for harmful bacteria, monitoring lakes and rivers to keep water safe to drink, discovering ways to restore and protect endangered species, and delivering public health programs around the world," said Meyer.
"As the profession continues to evolve, I am committed to preserving the trust that the public has placed in us, as veterinary professionals, to care for their health and the health of their animals," he added. "As president-elect, I look forward to helping the AVMA advance its mission of advocating for its members and advancing the science and practice of veterinary medicine to improve animal and human health."
Meyer and his wife are co-owners of a mixed-animal practice in Vancouver, Wash., which is certified by the American Animal Hospital Association (AAHA). Shortly after graduating from Washington State University (WSU) College of Veterinary Medicine, he established Mountain View Veterinary Hospital, which employs five associate veterinarians.
He has served organized veterinary medicine in many capacities, including leadership positions at the local, state and national levels. Meyer served on the AVMA Board of Directors from 2008-2014, and as its chair from 2013-2014. He is a past chair of the AVMA House Advisory Committee and also previously represented private practice-predominately equine on this committee. He served in the AVMA House of Delegates as a delegate or alternate delegate for 20 years and is a past president of the Washington State Veterinary Medical Association, where he was honored as its Veterinarian of the Year in 2004. He also was chair of the Washington-Oregon-Idaho Steering Committee and was the equine representative on the AVMA Clinical Practitioners Advisory Committee. Meyer's interest in leadership development led him to be an advocate for the AVMA Veterinary Leadership Experience, an experiential leadership program for students and faculty from across North America that teaches life skills in better communication and collaboration with one another.
"Through his many years of experience as a mixed-animal practitioner, Dr. Meyer has a strong understanding of veterinary medicine from many perspectives," said AVMA Chief Executive Officer Dr. Ron DeHaven. "He has demonstrated his commitment to advancing the profession and providing quality, veterinary care to improve animal and human health. Dr. Meyer is a compassionate individual whose management, decision making and communication skills will be a tremendous asset to the AVMA as we work to address important issues in veterinary medicine now and into the future."
Meyer has been an active member of the Washington Veterinary Medical Association, the AAHA, the American Association of Equine Practitioners and the American Association of Bovine Practitioners. He is a past recipient of the WSU College of Veterinary Medicine's Distinguished Veterinary Alumni Award for Excellence in Practice (2010). Meyer received his doctor of veterinary medicine degree from WSU, where he previously completed a master's degree in zoology, and a bachelor's degree in biology from Central Washington State College.
Tags: AVMA, veterinarian, veterinary medicine
Jul 6, 2015
Vernon Johnson Receives New Appointment at Western Washington University | My Story staff '12
Categories: 1970s | 1980s | College of Arts and Sciences | Professional or career event
Vernon Johnson was appointed the Director of the Ralph Munro Institute for Civic Education at Western Washington University. Johnson has been a professor in the political science department at WWU since 2002.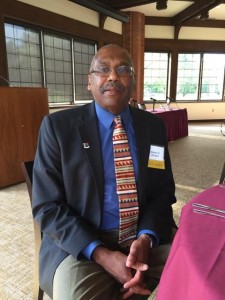 Tags: political science, professor, Western Washington University
My Story authors from the 1970s