1970s
1970-1979 :: The South grandstands of wooden football stadium at Rogers Field were burned by an arsonist and Butch VI, the last living Cougar mascot, retired. Henry Rono set four world track records in distance running events and football player Jack Thompson's jersey number 14 was retired in recognition of his passing record. Enrollment at WSU reached a high of 18,160 and the 50,000th student graduated.
Featured notes
Jun 3, 2015
KCTS 9 Announced Enrique Cerna as Director of Community Partnerships | My Story staff '12
Categories: 1970s | Edward R. Murrow College of Communication | Professional or career event
KCTS 9 is pleased to announce that veteran journalist Enrique Cerna has been appointed Director of Community Partnerships for the Seattle-based public media station.
"In line with our new strategic direction, we've made a commitment to provide resources to facilitate community collaborations," said Robert I. Dunlop, KCTS 9 President and CEO. "Enrique's depth of experience in public media, combined with his deep ties in the community, make him a great fit for this newly created position."
In this new position, Cerna will develop and cultivate community partnerships; host community engagement events; and direct a program that teaches community storytelling. Cerna will continue to produce and report stories for broadcast and digital platforms.
"I see this as a great opportunity to develop a wide range of civic partnerships," said Enrique Cerna. "I'm especially excited about the storytelling possibilities and the opportunity to share them on multiple platforms."
Cerna has worked in the Seattle broadcast market for 40 years. The son of Mexican immigrants, he was born and raised in the Yakima Valley. Cerna joined KCTS 9 in January, 1995. He has anchored current affairs programs, moderated statewide political debates, produced and reported stories for national PBS programs as well as local documentaries on social and juvenile justice, the environment, and Latinos in Washington state. Prior to joining KCTS 9, he worked as a reporter, producer and host at KOMO Radio and Television and KING Television.
Cerna has earned five Northwest region Emmy awards and numerous other honors. In June, 2013, he was inducted into the National Academy of Television Arts and Sciences Northwest Chapter's Silver Circle for his work as a television professional. He has served on the boards of United Way of King County, the World Affairs Council of Seattle, Seattle City Club and the Chief Seattle Council's Scoutreach program. Cerna is a graduate of Washington State University.
Tags: 1970s, communications, KCTS 9
Jul 6, 2015
Vernon Johnson Receives New Appointment at Western Washington University | My Story staff '12
Categories: 1970s | 1980s | College of Arts and Sciences | Professional or career event
Vernon Johnson was appointed the Director of the Ralph Munro Institute for Civic Education at Western Washington University. Johnson has been a professor in the political science department at WWU since 2002.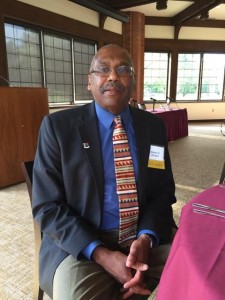 Tags: political science, professor, Western Washington University
Jun 5, 2015
Bob Guptill Retiring as GNAC's Information Director | My Story staff '12
Categories: 1970s | Edward R. Murrow College of Communication | Professional or career event | sports
PORTLAND, Ore. – Blake Timm, who has served as sports information director at NCAA Division III member Pacific (Ore.) University since 1999, has been appointed the GNAC's assistant commissioner for communications.
Timm will begin his duties July 13. He replaces Bob Guptill, who is retiring after 14 years as the conference information director and 35 years in college athletics.
"We are extremely excited to have Blake Timm join the GNAC staff," said commissioner Dave Haglund.
"In addition to his extensive experience in collegiate athletic media relations, Blake has a strong familiarity with our conference and many of the media members in our footprint. Most important, he is a highly respected professional who has been an effective leader in his field both regionally and nationally. We couldn't have found a better person to take over the reins from Bob Guptill, who has done a fabulous job in his time at the GNAC."
During his career at Pacific, Timm has directed the media and external relations for Pacific's 24-sport athletic program. Key achievements during his tenure include award-winning publications and writing; designing and executing aggressive multimedia initiatives (including multiple website redesigns as well as audio and video webcasting); overseeing successful strategies for department use of a variety of social media platforms; and securing regional and national media coverage of Boxer athletics.
Timm also spent part of his tenure as the lead media contact for Pacific University Legends, a celebrity fundraising concert, auction and golf event that has raised over $600,000 for Pacific's athletic program.
"I am excited to begin the next chapter in my career with the GNAC staff," Timm said. "The GNAC has developed a reputation for excellence in small college athletics in the Northwest and within NCAA Division II. I look forward to serving a first-class group of athletics communications professionals in the conference's schools and bringing the GNAC's message to a broader audience."
An active member and leader in the College Sports Information Directors of America (CoSIDA), Timm has served on various boards and committees with the organization since 2001, including six years on CoSIDA's Board of Directors. He also has had a significant presence as a media relations aide at major athletic events in the Pacific Northwest, including the NCAA Division I men's basketball regionals, the IAAF World Junior Track and Field Championships, the FIFA Women's World Cup and the U.S. Olympic Track and Field Trials.
Timm graduated in 1998 from Pacific with a bachelor's of arts degree in communications-journalism.
Jun 2, 2015
Former WSU Men's Tennis Coach to be Inducted Into the CCCAA Hall of Fame | My Story staff '12
Categories: 1960s | 1970s | athletics | Award or honor | College of Education
The California Community College Athletic Association announced that Bruce Werner will be inducted into the California Community College Sports Hall of Fame.
The CCCAA Sports Hall of Fame is the highest honor for California Community College athletes. Werner will join 126 previous inductees in the Hall.
Bruce Werner received his Master's degree and Doctorate from Washington State University and coached the men's tennis team. Werner has been involved in sports continually throughout his life.
Werner has taught PE , been a men's tennis coach, an assistant football coach, a Dean of PE/Athletics, and VP of Instruction. He was a founding member of the NorCal Football Association and served as president of the Valley and Camino Norte conferences. Werner was the first president of the NCFA, first commissioner of the (previously) Big 7, and president of of the Mid Empire Football Conference. He was president of the California Community College Athletic Directors Association, the 1999 Athletic Director of the Year, and is a member of the CCCFCA Hall of Fame and the CCCADA Hall of Fame.
He was a charter member of the CCC Tennis Coaches Association, as well as a longtime member of the CCC Football Coaches Association.
Tags: Award or honor, Men's tennis, sports hall of fame
My Story authors from the 1970s