1960s
1960-1969 :: KWSU-TV was on the air for first time while geologists discover the oldest human remains in North America at the Marmes excavation. Anti-Vietnam War protesters organized sit-ins while the required ROTC program became voluntary. Record-setting football player Keith Lincoln and undefeated track All-American Gerry Lindgren graduated. Sidney Hacker established the Honors program and enrollment at WSU reached 13,128.
Featured notes
Apr 15, 2016
Sam Hunt waves the flag on the Great Wall of China | My Story staff '12
Categories: 1960s | College of Arts and Sciences | Other event | photography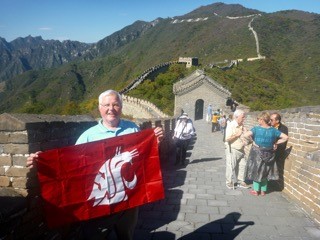 Sam Hunt '67 waves the Cougar flag at the Great Wall of China last October. Sam is a state representative from Olympia.
Jun 2, 2015
Former WSU Men's Tennis Coach to be Inducted Into the CCCAA Hall of Fame | My Story staff '12
Categories: 1960s | 1970s | athletics | Award or honor | College of Education
The California Community College Athletic Association announced that Bruce Werner will be inducted into the California Community College Sports Hall of Fame.
The CCCAA Sports Hall of Fame is the highest honor for California Community College athletes. Werner will join 126 previous inductees in the Hall.
Bruce Werner received his Master's degree and Doctorate from Washington State University and coached the men's tennis team. Werner has been involved in sports continually throughout his life.
Werner has taught PE , been a men's tennis coach, an assistant football coach, a Dean of PE/Athletics, and VP of Instruction. He was a founding member of the NorCal Football Association and served as president of the Valley and Camino Norte conferences. Werner was the first president of the NCFA, first commissioner of the (previously) Big 7, and president of of the Mid Empire Football Conference. He was president of the California Community College Athletic Directors Association, the 1999 Athletic Director of the Year, and is a member of the CCCFCA Hall of Fame and the CCCADA Hall of Fame.
He was a charter member of the CCC Tennis Coaches Association, as well as a longtime member of the CCC Football Coaches Association.
Tags: Award or honor, Men's tennis, sports hall of fame
May 13, 2015
Ron King Receives Yakima Chamber of Commerce Community Service Award | My Story staff '12
Categories: 1960s | Award or honor | Edward R. Murrow College of Communication
The Greater Yakima Chamber of Commerce honored Dr. Linda Kaminski, President of Yakima Valley Community College, and Ronald R. King '67 of Radio Yakima with its community service award this year.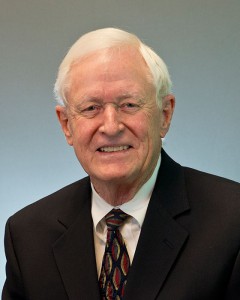 The Ted Robertson Community Service Award was established in 1989 by the Greater Yakima Chamber of Commerce Past Board Chairs to honor individuals each year that have made major contributions to the betterment of the greater Yakima area. Ted Robertson, former publisher of the Yakima-Herald Republic, held a strong belief that good fortune earned in a community should be shared with that community. Ted also believed that we, as a community, ought to find more ways to honor people who distinguish themselves through their community service.
The honorees are selected by the Past Board Chairs of the Chamber, for their inspiring leadership, achievements, and commitment to the improvement of our community as business people and citizens of the Yakima Valley. The prestigious Ted Robertson Community Service Award has become the Yakima Valley's highest recognition for civic accomplishment and involvement.
Ronald "Ron" King, has been involved in Yakima Valley radio broadcasting for most of the past 58 years. He has served the business community as a professional broadcast sales consultant since 1967.
His involvement in community has extended far beyond his broadcast career. Ron is a past Director of the Jaycees, and has served on Boards for: Montessori School; Central Washington MS Society; Yakima County Development Association; Yakima Rotary; Yakima Visitor and Convention Bureau; Yakima Advertising Federation; Yakima Radio Broadcasters; Fort Simcoe Council of the Boy Scouts of America; 13 years on the Yakima Specialties Board and the Greater Yakima Chamber of Commerce.
He has been an organizational, advisory, and/or fundraising volunteer for March of Dimes; United Way; Little League Baseball; Salvation Army; and Yakima Specialties Foundation (Past President). He was the sitting chair of the Greater Yakima Chamber of Commerce in 1985-86 the year "Leadership Yakima" was founded and became a graduate of the very first class. He has also served on almost every Chamber committee as a volunteer or chair over the past 30 years. He returned to the Chamber Board of Directors in 2009 and continues to organize the "Past Board Chairs" of the Chamber who honor him this year with their secret ballot to name him a Ted Robertson Community Service Award recipient.
Read more at: http://www.yakimaherald.com/news/latestlocalnews/3146802-8/yakima-chamber-to-announce-recipient-of-ted-robertson
Tags: 1967, Yakima Chamber of Commerce
My Story authors from the 1960s