College of Arts and Sciences
May 26, 2016
Dr. Dale Daniel receives Physician Exceptional Contribution Award (PECA) | My Story staff '12
Categories: 1970s | Award or honor | College of Arts and Sciences | Featured
Dr. Dale Daniel ('73 Zool.) joined Southern California Permanente Medical Group in 1979 and became a partner in 1985.
Dr. Daniel attended medical school at the University of Washington, and finished his post-graduate training with an internship at the Cleveland Metropolitan Hospital. After completing a residency in Internal Medicine at Case Western University, he started a surgical residency with Kaiser Permanente Los Angeles Medical Center where he served as Chief Resident in Surgery from 1982 to 1983.
He currently holds the role of Assistant Chief of Service of Surgery at Riverside. As staff surgeon, Dr. Daniel serves as Assistant Chief of General Surgery and is involved in several professional activities, which includes participation in the American College of Surgeons, serving as Chair of the Regional Pharmacy and Therapeutics Committee, and involvement in numerous successful initiatives for KP.
Being an active leader in his field, Dr. Daniel was honored with the Group Contributor Award given by General Surgery-Fontana, Ontario Vineyard Surgery Center. He was also recognized with The Innovation Award by the Fontana Medical Center for Laparoscopic Gastroesophageal Fundoplication and the Fontana Outpatient Minor Surgery Portacath and an Excellence Award for his leadership in establishing The Ontario Vineyard Surgery Center.
Dr. Daniel has contributed to the education of health care worldwide, impacting patient's safety, health, and recovery. He has presented lectures that have been widely accepted among surgeons. Lectures include
1) The comparison of Cefotetan and Cefoxitin in non-perforated appendicitis
2) The comparison of patients with post op and non-post op infection in non-perforated appendicitis
3) The physician and patient roles in detection of initial recurrence of melanoma
4) The safety on discharging adult patients same day undergoing laparoscopic Nissen gastroesophageal fundoplication
5) The utilization of Proton Pump Inhibitors before and after laparoscopic Nissen gastroesophageal fundoplication and
6) The safety of discharging appendectomy patients directly from the recovery room.
In 2014, Dr. Daniel article "Homeward bound: The Safety of Discharging Postappendectomy Patients Directly Home from the Recovery Room" was featured in American Surgeon.
Dr. Daniel and his wife, Sharon, have two beautiful daughters, Chloe and Olivia, who are both nationally ranked for their accomplishments in the sport of fencing.
Tags: 1973, Award or honor, California, Doctor, Permanente Medical Group, physician, pre-medicine, zoology
Apr 15, 2016
Sam Hunt waves the flag on the Great Wall of China | My Story staff '12
Categories: 1960s | College of Arts and Sciences | Other event | photography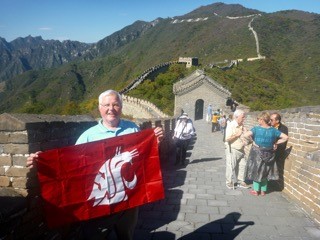 Sam Hunt '67 waves the Cougar flag at the Great Wall of China last October. Sam is a state representative from Olympia.
Aug 6, 2015
Dr. Thomas F. Meyer Named AVMA President-Elect | My Story staff '12
Categories: 1970s | College of Arts and Sciences | Professional or career event
Dr. Thomas F. Meyer has been named president-elect of the American Veterinary Medical Association (AVMA). Meyer, who was elected to the post by the AVMA House of Delegates (HOD) at its summer session on July 10, succeeds Dr. Joseph H. Kinnarney, who has officially assumed his role as AVMA president.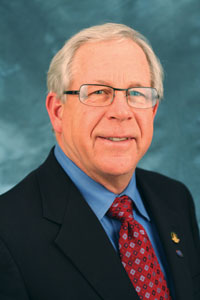 As president-elect, Meyer will assist the president in supervising all the business affairs of the AVMA. He also will serve on the AVMA Board of Governors, which acts as the executive committee of the association, and will be the presiding officer at all sessions of the HOD. Meyer will become AVMA president in 2016, upon expiration of the current president's term of office.
"Over time, veterinary professionals have created better solutions to meet the changing needs of society. We need to continue our good work in developing new technologies to detect, prevent and treat diseases in animals and people. It is also important that we increase awareness of the other ways veterinary professionals play a critical role in our society. For instance, the public may be less familiar with the role veterinarians play in inspecting food for harmful bacteria, monitoring lakes and rivers to keep water safe to drink, discovering ways to restore and protect endangered species, and delivering public health programs around the world," said Meyer.
"As the profession continues to evolve, I am committed to preserving the trust that the public has placed in us, as veterinary professionals, to care for their health and the health of their animals," he added. "As president-elect, I look forward to helping the AVMA advance its mission of advocating for its members and advancing the science and practice of veterinary medicine to improve animal and human health."
Meyer and his wife are co-owners of a mixed-animal practice in Vancouver, Wash., which is certified by the American Animal Hospital Association (AAHA). Shortly after graduating from Washington State University (WSU) College of Veterinary Medicine, he established Mountain View Veterinary Hospital, which employs five associate veterinarians.
He has served organized veterinary medicine in many capacities, including leadership positions at the local, state and national levels. Meyer served on the AVMA Board of Directors from 2008-2014, and as its chair from 2013-2014. He is a past chair of the AVMA House Advisory Committee and also previously represented private practice-predominately equine on this committee. He served in the AVMA House of Delegates as a delegate or alternate delegate for 20 years and is a past president of the Washington State Veterinary Medical Association, where he was honored as its Veterinarian of the Year in 2004. He also was chair of the Washington-Oregon-Idaho Steering Committee and was the equine representative on the AVMA Clinical Practitioners Advisory Committee. Meyer's interest in leadership development led him to be an advocate for the AVMA Veterinary Leadership Experience, an experiential leadership program for students and faculty from across North America that teaches life skills in better communication and collaboration with one another.
"Through his many years of experience as a mixed-animal practitioner, Dr. Meyer has a strong understanding of veterinary medicine from many perspectives," said AVMA Chief Executive Officer Dr. Ron DeHaven. "He has demonstrated his commitment to advancing the profession and providing quality, veterinary care to improve animal and human health. Dr. Meyer is a compassionate individual whose management, decision making and communication skills will be a tremendous asset to the AVMA as we work to address important issues in veterinary medicine now and into the future."
Meyer has been an active member of the Washington Veterinary Medical Association, the AAHA, the American Association of Equine Practitioners and the American Association of Bovine Practitioners. He is a past recipient of the WSU College of Veterinary Medicine's Distinguished Veterinary Alumni Award for Excellence in Practice (2010). Meyer received his doctor of veterinary medicine degree from WSU, where he previously completed a master's degree in zoology, and a bachelor's degree in biology from Central Washington State College.
Tags: AVMA, veterinarian, veterinary medicine
My Story authors from the College of Arts and Sciences