Other event
Mar 13, 2017
Milestones for Jones | Holly Jones '02
Categories: Birth or Adoption | Other event | Professional or career event
Holly (Wysaske) Jones ('02, English), together with her husband William, welcomed a daughter to the family. Irene Jean Jones was born April 16, 2015, and joins brothers, Victor and Ricker as future Cougs, following in the footsteps of grandparents Ron ('74, '90, Business) and Karen ('74, '90, Education) Wysaske, aunt Kelly (Wysaske) Ritter ('00, Music), and uncle Kevin Wysaske ('10, DTAC).
Additionally, in August of 2016, Jones published her first young adult novel, I Want Everybody To Like Me — a "rad" coming of age piece of fiction set in the 1990s and inspired by Jones' upbringing in the small town of Washougal, Washington. Currently available on amazon.com and through other select booksellers: https://www.amazon.com/I-Want-Everybody-Like-Me/dp/1537139606.
Tags: 2002, book, business, DTAC, education, English, family, music, novel, published
Apr 15, 2016
Sam Hunt waves the flag on the Great Wall of China | My Story staff '12
Categories: 1960s | College of Arts and Sciences | Other event | photography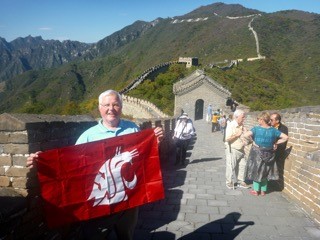 Sam Hunt '67 waves the Cougar flag at the Great Wall of China last October. Sam is a state representative from Olympia.
Jul 6, 2015
Stacy Pritt Makes Moves in the Veterinary Field | My Story staff '12
Categories: 1990s | Award or honor | Other event | Professional or career event
Stacy Pritt '97 was awarded the Ron Orta Memorial Award from the Laboratory Animal Management Association for the best presentation at their annual meeting located in New Orleans in April of this year. Pritt's presentation was on "Men and Women in Management and Leadership: Differences and Similarities." Following that she was awarded the Founders' Award from the Laboratory Animal Welfare Training Exchange.
At the American Veterinary Medical Association in July, she will announce her candidacy for the AVMA Vice-Presidency. Pritt is currently the President-Elect of the Women's Veterinary Leadership Development Initiative and will take over as President in January 2016.
Tags: 1990's, College of Veterinary Medicine, Presidency
Apr 17, 2015
Justin Potts dives in to Japanese culture. | My Story staff '12
Categories: 2000s | Featured | Other event
Justin Potts, ('04 Psych) is greatly fascinated with Japan's natural beaut, agriculture, and cuisine. Through his love for the nation's agriculture, he has found a job at Umari Inc., which operates a Tokyo based restaurant that offers Japanese food cooked with select produce from farmers all over Japan.
This May, Potts will lead a new project involving Japanese and Italian companies and participate in Milano Expo 2015 in Italy to tout Japan's cuisine. The project is named "Peace Kitchen," and will allow participants to learn about Japan's home-style cooking.
"It's not about sake. It's more about the concept around fermentation, how we coexist with things and a philosophy related to that, how that ties to building communities, working with one another," says Potts. "It's about who you share it with, the time you spend with people around that food — something you can't buy in Tokyo at any price."
Potts has now learned Japanese fluently and completely immersed himself in the culture.
"[Not knowing the language is] fine if you're traveling, it's fine if you're studying abroad for a few months and you don't have a lot of responsibility," he said. "But when it comes to living and thriving, being able to order a beer or rent a video is one thing, but on a personal level, aside from Japanese or non-Japanese, you want to make connections and communicate."
Tags: agriculture, Japan, travel
My Story authors from the Other event