Birth or Adoption
Mar 13, 2017
Milestones for Jones | Holly Jones '02
Categories: Birth or Adoption | Other event | Professional or career event
Holly (Wysaske) Jones ('02, English), together with her husband William, welcomed a daughter to the family. Irene Jean Jones was born April 16, 2015, and joins brothers, Victor and Ricker as future Cougs, following in the footsteps of grandparents Ron ('74, '90, Business) and Karen ('74, '90, Education) Wysaske, aunt Kelly (Wysaske) Ritter ('00, Music), and uncle Kevin Wysaske ('10, DTAC).
Additionally, in August of 2016, Jones published her first young adult novel, I Want Everybody To Like Me — a "rad" coming of age piece of fiction set in the 1990s and inspired by Jones' upbringing in the small town of Washougal, Washington. Currently available on amazon.com and through other select booksellers: https://www.amazon.com/I-Want-Everybody-Like-Me/dp/1537139606.
Tags: 2002, book, business, DTAC, education, English, family, music, novel, published
Jan 9, 2013
Jurgensens welcome baby Ethan | Shelby Jurgensen '06
Categories: 2000s | Birth or Adoption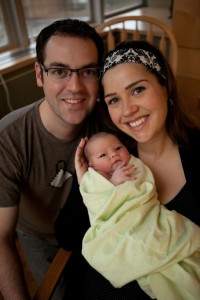 Curtis Jurgensen (B.A. '05) and Shelby Jurgensen (B.A. '06) welcomed a baby boy on October 22, 2012 at Swedish Medical Center – Ballard. His name is Ethan Grant Jurgensen and was born at 9:07 p.m., weighing 8 pounds and 4 ounces, and 21.5 inches in length. This is the couple's first child and they reside in Bellevue, WA.
Tags: 2005, 2006, Alpha Phi, Bellevue, Birth or Adoption, Kappa Sigma, Microsoft, Starbucks
Nov 27, 2012
Archer's Welcome Baby Girl | Leslie Archer '98
Categories: 1990s | Birth or Adoption
Leslie Archer (La Motte) '98 and Ken Archer '99, welcomed a baby girl on July 22, 2012 at St. Charles Hospital in Bend, Oregon.  Elsie La Motte Archer was born at 2:22 pm, weighing 7 pounds 15 ounces, and 20 inches long.  Elsie joins brother Edward (4) and Sydney (2).
Tags: 1998
Sep 28, 2012
Monhollens Welcome Baby Boy | Judy Monhollen '07
Categories: 2000s | Birth or Adoption
Judy Monhollen (nee Worker), class of 2007, B.A. History, and her husband, SSG Paul Monhollen, welcomed a baby boy on September 11, 2012, at Madigan Army Medical Center, Joint Base Lewis-McChord, WA.  His name is Jonathan William, and he was born at 5:54 a.m., weighing 8 pounds and 10 ounces, and 22 inches in length.  This is the couple's first child.
Tags: 2007
My Story authors from the Birth or Adoption