2000s
2000-2009 :: WSU developed a test to diagnose the nation's first case of "mad cow" disease and the Bill & Melinda Gates Foundation donated the largest grant in WSU history for the new School for Global Animal Health. The newly-renovated Compton Union Building, Martin Stadium, and Palouse Ridge Golf Club opened. WSU Cougars had a football and men's basketball "sweep" of rival University of Washington Huskies and the football team ended its season at the Rose Bowl. Elton John performed in two WSU Mom's Weekend concerts and 20-year-old student Danielle Fisher was the youngest American to stand atop Mount Everest. Record high enrollment at WSU reached 21,794.
Featured notes
Nov 19, 2016
2016 Anthony Savage Award from the Washington Association of Criminal Defense Lawyers (WACDL) | Emily Gause '06
Categories: 2000s | Professional or career event
I am honored to be receiving Washington Association of Criminal Defense Lawyer's 2016 Anthony Savage Award.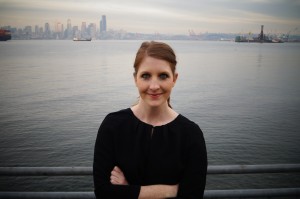 The award recognizes an outstanding trial performance or result achieved by an attorney in practice for less than ten years. I am being recognized for my work in USA v. Frazier, a serious felony case in the Western District of Washington that was dismissed on defense motion for a Brady violation.
"Emily wrote extensive briefing over many months, including a motion to suppress which raised questions about a confidential informant's credibility. Just days before the suppression hearing and trial, the government disclosed new evidence that confirmed the informant had failed a polygraph. Emily immediately filed a motion to dismiss the case based on violations of Brady v. Maryland. Emily also filed motions demanding that the confidential informant be named and that more information be produced about his criminal history and department of corrections file. This revealed even more evidence that this informant had significant veracity issues, and was engaging in criminal activity at the time he was cooperating with police. Judge Jones listened to days of testimony and hours of argument before ultimately dismissing the case because of the Brady violation, after finding that the only evidence against her client came from the unreliable and untrustworthy informant. Her client was released from federal custody that same day.
According to Lee Covell, co-counsel on the case, "her work on this case was nothing short of phenomenal."
Emily Gause owns her own firm — the Law Offices of Emily M. Gause PLLC — where she practices solely in felony criminal defense, both in federal courts and state courts across Washington State. Emily has carved an impressive reputation in the criminal defense legal community as a rising star. After graduating with a degree in criminal justice from Washington State University, Emily dove into law school with the intent of becoming a criminal defense attorney.  Emily graduated from WSU in 2006 with duel degrees in criminal justice and sociology – law and social control.
Tags: 2006, Award or honor, criminal defense lawyer, lawyer
Apr 15, 2016
Gina Smith Rejoins SPVV Landscape Architects | My Story staff '12
Categories: 2000s | College of Agricultural, Human, and Natural Resource Sciences | Featured | Professional or career event
Gina Smith '07 Landscape Architecture, has rejoined SPVV Landscape Architects of Spokane, Wash., as a landscape designer. Smith, who previously served as a landscape designer, holds a LEED accreditation, and will be responsible for designing, estimating and managing the development of landscapes for governmental, commercial and educational commissions.
Initial projects for which Smith will be providing landscape design services include Northwood Middle School for the Mead School District; Corbin Park renovations for the City of Spokane Parks and Recreation Department; and Franklin Elementary for Spokane Public Schools.
Established in 1995, Spokane-based SPVV Landscape Architects provides professional landscape architecture and planning services to clients throughout the western United States and internationally. Market sectors served include healthcare, continuing care, higher education, K-12 education, government, corporate, commercial, technology and multi-family housing. For more information, visit www.spvv.com.
Tags: 2007, landscape architecture, landscape designer, Spokane
My Story authors from the 2000s