1990s
1990-1999 :: Alumnus Edward R. Murrow was featured on a U.S. postage stamp and the Cougar logo was printed on license plates. Northwest Public Radio's "Bob and Bill" classical music show went national and WSU went online and "wired." Alcohol-induced student riots shook Colorado Street and a U.S. Department of Energy grant created the Institute for Shock Physics. Cougar football played in the Rose Bowl and quarterback Drew Bledsoe was first pick in the NFL draft. The WSU boasted the largest intramural program west of the Mississippi and total campus enrollment surpassed 20,000.
Featured notes
Mar 10, 2017
Secretary of State taps Erich Ebel to serve as Communications Director | Erich Ebel '96
Categories: 1990s | Professional or career event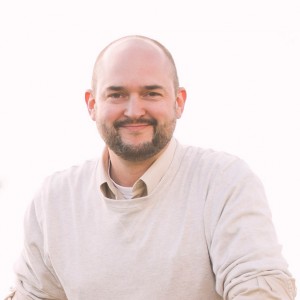 Washington Secretary of State Kim Wyman announced that Erich Ebel has been hired as Communications Director and will begin March 16, 2017. Erich comes from the Washington State Historical Society, where he had served as the Communications and Marketing Director since 2015. Previously, Erich served as a Public Information Specialist for Pierce County and as a Communications Manager in the Washington State Senate.  A native Washingtonian, Erich started his communications career working in television news. He also served in the US Army Reserves from 2000 to 2008.
Erich replaces former communications director and longtime Associated Press capitol press corps bureau chief Dave Ammons who retired in 2016.
Tags: 1996, Associated Press, communications director, Dave Ammons, Erich Ebel, Kim Wyman, Pierce County, Secretary of State, U.S. Army, washington state, Washington State Historical Society, Washington State Senate
Jan 12, 2017
Dr. William A. Ausmus MA, Ph.D. 1991 | Dr. William Ausmus '91
Categories: 1990s | Professional or career event
­­I am pleased to share the following milestones in my life with my friends at Washington State University.  After teaching for thirty years at three different universities, I have retired as a professor of Communication Studies at California Polytechnic State University.  I am now a full-time novelist.  My first novel, The Adamantine Heart, written under the pen name William Russell Sheridan, is available world-wide through Amazon Books. If you are interested in contacting me, I would love to hear from you and can best be reached at williamrsheridan@gmail.com.
Tags: 1991
Oct 27, 2015
Rob Phillips named new principal for Elementary School | My Story staff '12
Categories: 1990s | Professional or career event
Rob Phillips has been named the new principal for Elementary School #15 located at the Sagecrest development. Phillips has served as the principal at Washington Elementary since 2008.
Prior to Washington Elementary, he was the principal at Park Middle School and Amistad Elementary. He started his career in education as a 4th grade teacher at Southgate Elementary and began his administrative career as an assistant principal and principal in the Othello School District. He holds a Bachelor of Science from Western Baptist College and a Masters of Education from Washington State University.
Tags:
Oct 19, 2015
Get Your Foot in the Freelance Writing Door | Gary Koger '91
Categories: 1990s
Freelance writing is mainly professional writing done by freelancers. To be a freelance writer is to work on different jobs for short periods of time, without being a permanent employee. The word 'freelance' itself comes from the Middle Ages, to describe the knights who would defend whichever king paid them, rather than being loyal to just one king. These knights were referred to as 'free lanced'.
Companies might contract out writing assignments for several reasons. Some businesses do not have in-house employees who specialize in writing, or know a topic or field well enough to write about it. Hiring a freelance writer means getting the work done correctly, accurately, and professionally without putting pressure on an unqualified employee.
There are different kinds of freelance writing, such as business writing, marketing writing or web writing. On the other hand, some freelancers focus solely on querying and writing for magazines, anthologies or newspapers, while still others serve non-profits through grant writing and proposal development.
Once you dive into the world of freelance writing, you'll begin to have a good grip on your strengths and weaknesses, and be able to target the jobs that best showcase your abilities and if you figure out what you are good at, and begin to parlay that talent into project after project, you will then truly be a "free lance."
Sep 2, 2015
Scott Sanderson joins eDiscovery Leader Discovia | My Story staff '12
Categories: 1990s | Professional or career event
Discovia, a leading global provider of eDiscovery services to corporations, law firms and government entities, announced today that it has hired Scott Sanderson, an experienced business development professional and former NFL offensive lineman, as Senior Discovery Consultant. In this capacity, Sanderson will be responsible for establishing and managing new client relationships in the Southeast U.S. He is based in Nashville, TN.
"I have been aware of Discovia's reputation and business model for some time and when the opportunity arose to join the company, I enthusiastically accepted," said Sanderson. "I am excited to be working for an innovative company that pioneered a fixed-price managed services model. I bring a strong customer service background and a drive for perfection which will be useful in supporting our clients' needs."
Sanderson brings to Discovia over a decade of success in professional sales with Intuitive Surgical, a leader in robotic-assisted surgery, and with Merck, a global pharmaceutical and healthcare leader. He also has experience as an on-air talent for the Sinclair Broadcast Group, one of the nation's largest and most diversified television broadcasting companies. For seven seasons Sanderson enjoyed an outstanding career in the National Football League as an offensive lineman for the Tennessee Titans, the New Orleans Saints, and the Chicago Bears, highlighted by his playing for the Titans in Super Bowl XXXIV in 2000. He earned his undergraduate degree from Washington State University in criminal justice and sociology.
"Scott has had an incredibly successful career in several highly competitive industries," said Paige Hunt Wojcik, Discovia's Chief Client Officer. "We are thrilled to have him join us to support Discovia's continued growth in the Southeast and beyond."
About Discovia
Discovia provides electronic discovery services to corporations and law firms engaged in litigation, ITC investigations, and internal and regulatory investigations, including HSR Second Requests. Services include onsite and remote data collections, data minimization, data processing and hosting, expert application of leading technology-assisted review tools, document review management, and document productions. Discovia is one of the only eDiscovery services providers to achieve ISO 27001 certification and HIPAA/HITECH compliance for data security according to third-party auditors. Discovia is the first to publish its accuracy rate – 99.7 percent, and typically achieves data culling rates of 95 percent for repeat clients. Discovia is the first eDiscovery services firm to deliver a fixed-price managed services solution, enabling corporate legal departments and law firms to gain a world-class eDiscovery function with complete cost predictability. More information is available at 415-392-2900 or http://www.discovia.com.
– See more at: http://globenewswire.com/news-release/2015/09/01/765192/10147825/en/Former-NFL-Standout-Scott-Sanderson-Joins-eDiscovery-Leader-Discovia.html#sthash.QDSYlraw.dpuf
Tags:
Sep 2, 2015
WSU alumni, Joyce Stark named ESD 105 Regional Teacher of the Year for 2015-2016 | My Story staff '12
Categories: 1990s | Award or honor | Professional or career event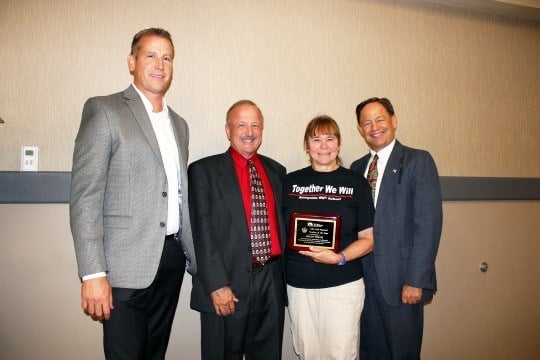 A Veteran science teacher with the Sunnyside School District who is also an active leader in regional and national student science fair programs, Joyce Stark has been named the Educational Service District 105 Regional Teacher of the Year for 2015-2016.
ESD 105 superintendent Steve Myers presented the award during a surprise announcement as part of the Sunnyside School District's staff-wide pre-service orientation meeting at the Sunnyside High School Auditorium on August 26.
Stark will serve as one of nine candidates from throughout the state for the 2016 Washington State Teacher of the Year award, which will be announced on Sept. 21 at Seattle Center's Experience Music Project / Science Fiction Museum.
The regional honor follows Stark's selection earlier this year as the Sunnyside School District's Secondary Teacher of the Year. In her application materials for the ESD 105 Regional Award, Stark wrote: "I wanted to teach science as scientists do authentic research. I believe that to learn science, students must do science."
She added: "I enjoy seeing students making discoveries on their own, learning from their mistakes, and working as scientists."
Stark began her teaching career at Sunnyside's schools in 1977. She began a middle and junior high school earth and physical science teacher, then transferred in 2001 to her current position teaching science at Sunnyside High School. As a high school teacher, she has taught biology, chemistry, botany, forensics, oceanography, and ecology, and established a research science elective. She also incorporated science research programs into her classes, including the option for students to obtain credit for research conducted after school or during evenings and weekends.
Over the past 33 years, Stark has assisted 28 Sunnyside students in achieving all-expense-paid trips to the International Science and Engineering Fair. Others involved with Stark's programs have won trips to the International Sustainable World Energy Engineering Environment Project Olympiad in Texas and to the Genius Olympiad in New York.
In his nomination letter, Sunnyside High School principal Ryan Maxwell wrote: "There is a buzz in the air as students work on their projects. She has the ability to take an uninterested science student and turn him or her into a scientist."
In addition to her work with the science fairs, Stark served as the Sunnyside School District's science coordinator five years and was the advisor for the Sunnyside Middle School Science Club.
The new ESD 105 Regional Teacher of the Year attended The Pennsylvania State University, where she earned both her B.S. degree in zoology with a minor in chemistry. She worked as a medical technologist for a hospital and entomological research technician at Penn State. Then, five years after obtaining her B.S. degree, Stark completed her teaching certification from Penn State and decided to begin a teaching career. She eventually earned an M.S. degree in biology from Washington State University in 1995.
In her application materials for the ESD 105 Regional Award, Stark wrote: "My motto, 'To learn science, students must do science,' can be modified for other disciplines, as well. Science encompasses many aspects of our daily lives. Being science literate will no longer be just an advantage, but an absolute necessity in the future."
Tags:
My Story authors from the 1990s