May 26, 2016
Dr. Dale Daniel receives Physician Exceptional Contribution Award (PECA) | My Story staff '12
Categories: 1970s | Award or honor | College of Arts and Sciences | Featured
Dr. Dale Daniel ('73 Zool.) joined Southern California Permanente Medical Group in 1979 and became a partner in 1985.
Dr. Daniel attended medical school at the University of Washington, and finished his post-graduate training with an internship at the Cleveland Metropolitan Hospital. After completing a residency in Internal Medicine at Case Western University, he started a surgical residency with Kaiser Permanente Los Angeles Medical Center where he served as Chief Resident in Surgery from 1982 to 1983.
He currently holds the role of Assistant Chief of Service of Surgery at Riverside. As staff surgeon, Dr. Daniel serves as Assistant Chief of General Surgery and is involved in several professional activities, which includes participation in the American College of Surgeons, serving as Chair of the Regional Pharmacy and Therapeutics Committee, and involvement in numerous successful initiatives for KP.
Being an active leader in his field, Dr. Daniel was honored with the Group Contributor Award given by General Surgery-Fontana, Ontario Vineyard Surgery Center. He was also recognized with The Innovation Award by the Fontana Medical Center for Laparoscopic Gastroesophageal Fundoplication and the Fontana Outpatient Minor Surgery Portacath and an Excellence Award for his leadership in establishing The Ontario Vineyard Surgery Center.
Dr. Daniel has contributed to the education of health care worldwide, impacting patient's safety, health, and recovery. He has presented lectures that have been widely accepted among surgeons. Lectures include
1) The comparison of Cefotetan and Cefoxitin in non-perforated appendicitis
2) The comparison of patients with post op and non-post op infection in non-perforated appendicitis
3) The physician and patient roles in detection of initial recurrence of melanoma
4) The safety on discharging adult patients same day undergoing laparoscopic Nissen gastroesophageal fundoplication
5) The utilization of Proton Pump Inhibitors before and after laparoscopic Nissen gastroesophageal fundoplication and
6) The safety of discharging appendectomy patients directly from the recovery room.
In 2014, Dr. Daniel article "Homeward bound: The Safety of Discharging Postappendectomy Patients Directly Home from the Recovery Room" was featured in American Surgeon.
Dr. Daniel and his wife, Sharon, have two beautiful daughters, Chloe and Olivia, who are both nationally ranked for their accomplishments in the sport of fencing.
Tags: 1973, Award or honor, California, Doctor, Permanente Medical Group, physician, pre-medicine, zoology
Apr 15, 2016
Gina Smith Rejoins SPVV Landscape Architects | My Story staff '12
Categories: 2000s | College of Agricultural, Human, and Natural Resource Sciences | Featured | Professional or career event
Gina Smith '07 Landscape Architecture, has rejoined SPVV Landscape Architects of Spokane, Wash., as a landscape designer. Smith, who previously served as a landscape designer, holds a LEED accreditation, and will be responsible for designing, estimating and managing the development of landscapes for governmental, commercial and educational commissions.
Initial projects for which Smith will be providing landscape design services include Northwood Middle School for the Mead School District; Corbin Park renovations for the City of Spokane Parks and Recreation Department; and Franklin Elementary for Spokane Public Schools.
Established in 1995, Spokane-based SPVV Landscape Architects provides professional landscape architecture and planning services to clients throughout the western United States and internationally. Market sectors served include healthcare, continuing care, higher education, K-12 education, government, corporate, commercial, technology and multi-family housing. For more information, visit www.spvv.com.
Tags: 2007, landscape architecture, landscape designer, Spokane
Apr 15, 2016
Sam Hunt waves the flag on the Great Wall of China | My Story staff '12
Categories: 1960s | College of Arts and Sciences | Other event | photography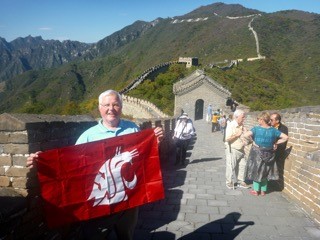 Sam Hunt '67 waves the Cougar flag at the Great Wall of China last October. Sam is a state representative from Olympia.