Dispatch
Cleaning up toxic soil in Nigeria
By Margrit von Braun PhD '89
Lead contamination as a byproduct of gold mining has killed over 400 children, and left many others sick, in Nigeria's Zamfara State over the past year. With no other source of income as lucrative, residents of the area brought ore into family compounds where women processed it with the same equipment they used in grinding grain and preparing food. The ore had a lead content and grinding the ore to retrieve the gold created a fine lead dust that has contaminated many residential compounds in at least 8 villages. TerraGraphics Environmental Engineering, based in Moscow, Idaho and the non-profit Blacksmith Institute, based in New York, responded to the crisis to help in remediating the contamination. UNICEF, WHO, CDC, the Zamfaran State government, the local emirate and village leaders have all been active participants. The French Médecins Sans Frontières (Doctors Without Borders) is treating the affected children once their home villages are remediated.
Founded in 1984 by Margrit von Braun PhD '89 and husband Ian von Lindern, TerraGraphics has provided oversight and coordination on numerous remediation projects, including the Bunker Hill Superfund site in northern Idaho. They have special expertise in remediation of sites contaminated with heavy metals. Von Braun is also a faculty member in chemical engineering at the University of Idaho and until recently was dean of graduate studies.
Von Braun joined her husband and other TerraGraphics personnel in Nigeria early last fall. She has been sending periodic dispatches to family and friends and agreed to let WSM publish them here.
September 30, 2010
I finally got an Internet connection with a few minutes so am sending this mass message! This is an amazing journey. The Nigeria guidebook describes the place we ended up as "nowhere with nothing available." In some ways that is accurate, but even after a few days I am amazed by what I have seen.
To follow protocol we have met with the local Emir and all the Ministers (of Health, of Environment, etc.) and are coordinating efforts with the UN relief Team (a group from Holland), Doctors Without Borders (MSF), World Health Organization (WHO), and others. MSF built us a compound complete with six sleeping rooms, two flush toilets (wow), two showers, a small kitchen and an "office". It was an old abandoned (never used) building, one of many around here. Well-meaning groups build things like schools and hospitals; then they stand empty forever. It is sort of like camping, but better, and Simba is training our cook, so we are eating well.
We are most welcome in the villages—there are still many sick children and the scale of the problems (many more villages) is staggering. Ian, Simba and Casey were warmly greeted on coming back since they were here in June. It was heartwarming to see how happy people were that they had returned with even more help. Ian—or Dr. Ian as he is known here—is now buddies with all the village chiefs who greet him as a long lost friend. The villages are extremely isolated and poor. The village 30 km away takes almost three hours to get to. Yes, you could walk it in that time!
The road and bridges simply cannot be described, but we hope to improve them as part of this project. We have been sampling soil, ponds, and wells and are typically accompanied by at least 30 kids at any moment. I have taken 500+ pix after only three days in the field, so be prepared! I am working mostly with two female graduate students who are fabulous. We are keeping journals so will bore you with many stories later. I am at the MSF main office on very limited Internet and it is about 110 in the shade, so I'd better go find water.
October 3
We have been mapping and sampling in three of the nearby villages. This is required before we can plan and design the remediation, which involves removing contaminated soil to a landfill and replacing it with clean soil. "Nearby" is relative since the one just six kilometers away takes 35 minutes by car and we can't walk because of heavy gear. Bagega is the town no one knew about when we were asking UNICEF for money, but sick kids have been showing up from there and it turns out they had a huge processing area with 57 ore grinders. There are probably 6000 people living here and hundreds of compounds.
Ellie (an engineer from Spokane who volunteered to help) and I are a sampling team with our guide, a Nigerian woman, Armina, who works for CDC Nigeria and studied at University of New Haven. We helped the Dutch UN emergency response team which is sampling communal and private wells for mercury levels. A typical sampling day is a long, bumpy, slow car ride. We arrive in a village to shouts of "Baturi" ("white people") from the kids, who will likely follow us in packs all day. At the butcher "shop" (open area), we watched goat and sheep being processed for jerky, covered with flies. An old man was hand-mixing the thin strips of dried meat with a curry-like sauce. Handily, a pond was nearby so the intestines could easily be dumped.
The first place we sampled was the chief's house as is the custom. His wives are so physically fit! Their biceps are amazing from pounding millet with huge, heavy wooden pestles in wooden mortars. It makes a TUK TUK sound, and they develop a clapping rhythm you can hear from every compound all day. The pestles must weigh 40 pounds. I am glad to be doing field work as many from our team (mostly the males) are in Gusau for more meetings with state officials. We really need them to provide workers, logistical support, and some equipment.
Last night sleeping was impossible—it was SO hot and humid. We put in a hot day of sampling. The compounds (restricted to women and kids) seem to be designed for maximum baking. If you are lucky they have a tree with a little shade. The sleeping rooms (one per wife) are made of clay, oven-like. I've decided all I need in life (materially) is Purell gel cleanser, electrolyte tabs for my water bottle, and a camp fan with fresh batteries at night.
At 5:30 PM, Ellie and I walked to the Anka market and passed people carrying lots of products in big bowls on their heads. One camel was loaded with a cabinet, a large mortar, pillows, and boxes of supplies. Other camels were waiting in the "parking lot" to be loaded for the journey home.
Several compounds and kids struck me this week:
One compound was immaculate—neatly swept, goats in a confined area, beautiful garden, no trash anywhere. The only person home was a young woman (maybe 15). She was sitting beneath the cone-shaped straw hut in the shade when we arrived and never rose. We asked her the usual questions—people generally know we are here because of the health of children, so not too much preamble is needed. How many kids? None. How many people live here? Just two—my husband and me. Do any children ever visit here? No. Did you do any ore processing (Rock crushing? Rock washing? Rock storage?) All no.
She never moved and we could barely see her face. We took a few samples and left. I think she is a newly wed and spends all day, every day, alone in this compound. She did have a radio. She probably grew up in a "typical" compound, as one of maybe 20-30 children surrounded by 3-5 mothers. I couldn't imagine her loneliness, not to mention her sheer boredom.
The compound next door also had one wife only—she had five children ages 1, 2,3,4,5 and apparently spent her days alone with them. They were quiet—we don't see kids interact and play much. Is it because we (the Martians!) are here? We see no toys, except for an occasional tin can being rolled by a stick. No books, no music. These remote villages typically do not have even primary schools. Today I finally saw the first book I have seen in any village and, not surprisingly, it was a Koran held by an elderly man.
At another compound, we saw a young boy, maybe 4-5 years old, lying on a mat. When we asked the mothers about sick kids, they pointed to him, but they said "his disease" was before the mining. "He has no legs" was the translation but actually he had no use of his legs—probably polio. His arms and legs were like sticks and he likely spent most of his day, his life, lying on this mat. This region has one of the highest incidence of polio in the world. Many health organizations are actively campaigning here for parents to vaccinate their kids.
One compound had fared poorly in the rainy season. Most of the room walls had collapsed and the compound yard was filled with clay bricks for re-construction. A small shed housed 3 boys, who looked about three. One was reportedly having fevers and convulsing periodically for FOUR months, but had never been to a clinic. When Ellie walked by the doorway of the shed, both boys screamed bloody murder. They quieted down but then I had to pass and, again, shrieks of total terror erupted. The mothers laughed and said they probably thought we were going to give them shots. The only other white people the kids have seen here are MSF doctors and nurses.
Although the field days are hard, hot and depressing in many ways, we have our lighter moments. This morning we killed a huge scorpion in our office. It looked like a tiny lobster.
Last night's after dinner conversation included this exchange. "Have you noticed those crickets swimming in the toilet bowl? How high do you think they can jump?"
MSF is an amazing organization. The work they do is hard, heart wrenching, efficient and practical. MSF typically only hires doctors from the developing world these days as Western trained doctors are too specialized and can't "do it all" as is required in these conditions.
Because it poured last night (blessed relief from the humidity), we decided to take the day off. Roads are likely impassable and we need a day to catch up on notes. We heard there was a car bomb in Abuja the other day—Nigerian Independence Day—with eight people killed. This area is so remote it is hard to describe. There is a national election planned in early spring and everyone hopes to be done around here well before then as party politics are not fun to be around.
Simba, Mike, Ellie, and I walked into Anka, about a 20-minute walk. A few street vendors were there, but Simba rejected all the food, so we will have rice and beans again. I wore shorts—sort of by oversight—but it was no problem. Nothing like the stares in Bangladesh if you were not more covered. We saw two Brahma cows being loaded into the bed of a small pickup truck. By loaded, I mean 3-4 men grabbed them and lifted them into the truck.
If you are still reading this, that's all for now…the adventure continues...
October 11
Hello all, Went to the market the other day but got there late so it was hard to find a parking place for my camel. Ended up having to go in at the "goat heads" entrance, but resisted temptation as there were not quite enough flies for my taste. I successfully dodged the intestines and illegal pesticide stands and found a few handicrafts (woven yogurt covers, ladles, and shawls). Most of the rest of the market was food of all species and body parts and some imported Chinese plastic and knock-off pharmaceuticals. Good drumming circle amidst political rallies. Extreme sensory overload—smells, colors, sounds—especially after days in the drab, camel- camouflaging compounds, where only the women's dresses and the occasional mat of drying red peppers add any color.
Next week I hope to shadow an MSF nurse at one of the clinics. They are still navigating how to get more kids treated. Because the mothers can't leave the compounds, and chelation therapy is a 28 day hospitalization, many kids are never seen by medical staff —they simply suffer/die at home. MSF is trying to develop more outpatient clinics in the villages for all but the most severe cases. That seems to be working better than trying to get people to come to hospital. Every day we meet MANY mothers who have lost children, but don't know why (there are many possibilities of course; lead is one of many). It will likely be years before body burdens stored in bone) of lead levels become safe even after remediation. And none of us can fathom the long-term reality of a brain-damaged generation of the survivors. Most of the villagers are very cooperative and beginning to understand we are trying to help them clean up the legacy of mining and ore processing in their homes. They point out places they WANT us to test etc. so that is promising.
Two new volunteers came yesterday—Abu who just graduated in environmental science from UI (he wore his Vandals hat!) and who is from Sierra Leone and Audra, an engineer from Houston who quit her job to come here (they wouldn't grant her a leave of absence). All in all, a great team of passionate people. We are staying healthy. I haven't had the nerve to tell anyone of my colleagues that I have yet to be bitten by a single insect in Nigeria, as I may be the only one of us so blessed, so far.
We have decided to stay another week till circa Oct 25 to see the remediation actually get underway in at least one village.
Saturday, October 16
Saturday is Bagega market day in the village south of us. In the morning streams of laden camels and dump trucks full of goods and people hanging off the side are headed south. I am traveling in the same direction to the MSF clinic in Dareta and am excited. We get there in an MSF Toyota Land Cruisers, one of the few vehicles that can survive the roads out here. This one holds 11—the clinic's head nurse, the driver, and me across the front and eight more people (two doctors, several nurses, and one CHW (community health worker) on benches that line the sides in back. My XRF (used to measure metals contamination) and backpack are not too welcome to the already overfull Land Cruiser, but we all crowd in.
Ten minutes down the road and we all climb out to walk across a horrendous bridge while the Land Cruiser does a riverbank crossing. The decking on the bridge (loose boards and logs) is particularly bad on Saturdays due to market travel.
The Dareta clinic opened in mid-July after the remediation of the village was complete. Before that they tried to limit treatment to kids with severe neurological symptoms and to use the Anka hospital. They typically had blood leads over 100 ug/dl (US standard is 10). They also get new patients typically in the 50-60s. Now that the outpatient clinic is open they can treat kids who live at home, presumably in uncontaminated environments. I plan to follow up with a CHW on cases where the lead levels have not dropped despite lots of rounds of chelation treatment and in general to survey the post remediation status – after the rainy season etc. 90% of the people who turn up at this clinic have malaria. Fortunately diarrhea (a.k.a. cholera) is not a problem.
But malaria is so prevalant that they don't even test for it—they just treat everyone for it. And get a blood lead sample while they are it. When we first arrive, several mothers and kids are waiting on the front porch. Many kids come by themselves, accompanied by an older sibling (say a 7-year-old) without an adult. They are treating 100+ kids here now. Before the clinic opened, children were treated by traditional healers or died at home without treatment.
A young mother came in with a listless infant, an 8-month-old with a fever of 36.8 (about 105, I think). The most amazing scene—often repeated this AM—was a little child, maybe 3-4 years old, who came in for vital signs at the registration desk. She stood still while a thermometer in her arm pit registered her temperature. They handed her a file and she bravely marched to the clinic room two doors down for her oral chelation treatment. I am not sure I have ever seen such brave, obedient, no nonsense, independent little faces. I spend the next 30 minutes in the chelation treatment room. Two nurses are mixing succinate chelation agent (to remove metals from the body) with Plumpy Nut to make a paste in a large plastic spoon. Each child in treatment is handed the spoon and scoops the peanut butter-like medicine out of the spoon with their fingers. Most of the kids are on a 19-day treatment series.
This is the first time I have seen young mothers outside of their compounds. They must have been allowed by their husbands to take their kids to the clinic. They interact and likely discuss what is going on. But they have no "voice" in the community. I try to stay out of the way as it is now very busy—perhaps 30-40 patients. I spend my last 30 minutes in the room where the phlebotomist draws blood. Not surprisingly, this is a room full of howls of fear and pain as the venous samples are taken.
Dareta has one horrible distinction. A young boy named had a blood lead level of >600 ug/dl, the highest reading ever recorded in a living person and he is doing well. We heard that his father divorced his mother because she took the boy to the clinic.
Simba arrives at noon to help me work in the village. His Hausa is great so he can act as my translator. We are looking for an MSF Community Health Worker to follow up on cases where kids are still showing high lead levels so that we can test their compounds. Julie has malaria and shouldn't work too late in the hot sun but like many people around here, it does not seem to slow her down. We get directions to her vehicle easily—of course everyone here knows Simba – it's like travelling with reborn Elvis.
We visit one compound where two kids live; they have been in chelation for months. Simba and I do many XRF tests and find that the entire compound has been virtually recontaminated because the father is continuing to process ore. Thankfully this is very rare, as the word is out, the Emir has prohibited such activity and Dareta is largely "clean." But there is really no easy way to police it. The father is lying on a mat in the shade of a hut and Simba engages him in conversation. Simba says don't let your kids play in this area, don't store food there. Simba tells him he has recontaminated the compound. The Father says he has been thinking he should remediate it himself. I want to strangle him! What the hell is he waiting for? Was his kid one of the brave little ones I saw this AM?
This is an emotional rollercoaster.
Yesterday, Ian chatted with one of the Chinese drivers of our heavy equipment used for the excavation. The man said he has a hard time understanding the number of children here due to the One Child rule in China. He had met a 70-year-old Nigerian man playing with a 7-year-old girl. "Is this your granddaughter?" he asked. "No, she is my wife. She is promised to me. When she is 14 she will begin to have my babies." "How many children do you have?" "62." The construction manager, also Chinese, has one child; his Nigerian driver has 32.
Monday Oct 18
Like many Monday mornings around the world, this one started crazy. Today is the first day of training in Abare, the next village to be remediated. We go to the Village Head's compound, which is soon a complete madhouse. Probably 50 young men crowded around looking for work. We have often had similar scenes in front of our base camp in the mornings, especially since the heavy equipment arrived, and despite the fact that we repeat often in every setting that the only hiring is done at the LGA or the Emir's, not here.
There is the usual array of goats, camels, kids and women carrying yogurt-filled gourds on their heads. The abandoned school to our equipment room and it is filled with wheelbarrows, water, gloves, sacks for carrying contaminated soil, new hoes for excavation etc. Ian is becoming quite a diplomat! He greets the chief and expresses our happiness to get the Abare project underway. His conversation with the chief is all but mobbed by the growing crowds. After much discussion, some side deals, etc, training begins. Ian demos the contamination levels near the old ore grinding site, the excavation with a hoe (marked X with red paint, for contamination), shoveling the contaminated soil into bags, etc. We have given out uniforms (purple polyester pants and white t-shirts—all found or made locally), gloves, masks to the crew. The health and safety lecture cannot be given often enough. It is so hard to keep kids away! I am slowly beginning to realize what a miracle they pulled off in June—remediating two villages within six weeks of arriving here, knowing no one. Ian says in some ways it was easier then, as there was no UNICEF funding to fight over. But I am starting to better understand why he came home July 4 so totally exhausted. Despite the chaos the Abare remediation actually starts to work. Soon we will see kids living in and playing on clean soil.
Jan. 10
The Harmattan has arrived—basically the dust storm from hell. We have not seen the sun for three days. The dust could drive you nuts, especially as we were still in lock down mode until today. The primary elections are now over (I think they are counting chads); thankfully, it ended up being quieter than expected and we plan to resume work tomorrow. Last night, the report was that the ANP challenging the incumbent party had received 80% of the votes and was claiming major victory. We worried that one of our neighbors (from the other party) might be in trouble – as in get his house burned down. The night was rowdy – lots of sirens, gunshots and the endless dusty wind threatening our roofs – but by morning we learned that they were all the 200 police firing warnings to keep peace. They also supposedly fired a hot water cannon (as in boiling water) to keep peace.
The dust…I do steam therapy over a bucket of hot water with a sheet over my head.
Yesterday Ian asked Simba to lead us in an ethical discussion. We are all tormented by the town of Bagega – what to do when with so little of the needed funding. How to be honest with the villagers with whom we establish friendships and good relationships; whether to test soil with no promise of money for remediation. Data may help get funding but it also raises expectations. MSF won't have capacity until early 2012 and won't do blood leads without remediation. We all feel "privileged" to be here – to be a part of these lives, to share what we have to offer, to learn so much from the strength and dignity of these people. Our fantasy is still to NOT sink into the despair and fatalism of Nigeria but to hope we can transition a workable remediation plan – with trained locals - for the government to take over. It is probably all – and the best –we can hope to do.
The UN issued a press release today – part of it got picked up by the NYT – basically an update to last June! Makes it sound like nothing has been done. We are working on a press release to update.
Last night we watched Madagascar 2, a Russian version with English dialogue and Cyrillic titles. Good antidote to the heavy ethics discussion.
Luis has been interviewing everyone as part of a video documentary – Goni (the finance tech whom I have been unable to keep busy so we also worked on his CV this week), Blessing, our cook who dazzles us with her "evening gowns" every night – the most beautiful fabrics, all hand sewn with a borrowed machine; and all of us at varying points. It will be so great to have this experience recorded! He is bringing a wonderful touch to this and is able to reach out to people and in ways none of us has been able to.
It is actually cold at night – one blanket will do – probably 50's but the locals are huddled in parkas, ski hats in the mornings. Did I mention the dust?! The dust has also made the sun invisible…..
Last night Simba made a great meal and we had the most fresh stuff so farever. Fresh pineapple, fresh green beans with cashews and ginger, fresh green salad (soaked in bleach water for 30 minutes), fresh oranges, a bean salad (canned beans but with fresh cucumber and oil and vinegar), egg curry and tortillas. Luis has made us fresh nan or tortillas every day!
Sorry for the rambling…must be the dust. Send news!!
A quick update. We are all well. Weather is nice and the project is continuing with good involvement by the villagers. Today is proving hard as we feel locked in our compound. I hope living behind a barbed wire fence with a guard shack is the closest I come to a prison experience. Today everyone from the cleaners and cooks to the Ministry folks said "do not leave." There are 2 opposing party political rallies all day. They started at 4 AM - Sirens, dancing, yelling etc. We are doing trainings, documentation and budgeting. Sounds like fun eh? I am also going to try to rally a yoga class and Scrabble fest.
We have a new garbage system! Sorry I am entertained by small victories just now. I discovered that "taking out the trash" meant dumping it in the field across the road. It was looking like an all American landfill. We planned a big trash cleanup but had to limit it to only part of the field as the other part doubles as a public toilet. We now have collection and access to the hospital incinerator in Anka with pickup service by MSF. We are also sharing compost pits with MSF.
After the Christmas holidays
Our R&R in Abuja is over - Abuja is an expensive, boring city but I think it was a good rest and still cheaper and easier than a farther trip would have entailed.
Morgan and Zac joined us from TG and are anxious to get out the villages. We have a great team!
Send news! We should have a real satellite internet connex by Saturday! Yipee!
PS We do NOT know when we will return! Too many things in the air. But we WILL be back.
Jan. 11
We now have a satellite internet connection thanks to our neighbors Doctors without Borders (MSF). I hope I didn't worry you about election hoopla. This is a crazy time in the country but we are under strict MSF protocols and they have lots of international experience and are very cautious. We have satellite phones, radios, guards and lots of ways to communicate. Most importantly we work closely with the community who welcomes us and gives us lots of good information constantly about how to work efficiently and stay safe. On a daily basis, our ""worries" are things like "Will I ever have a green salad again?" "What did warm water feel like?"
This week Ian and I are in Anka, at our "home base," while the teams are in the villages. Yesterday 6 teams of mappers and samplers (about 60+ locals we've trained) left here – it was like mobilizing an army! There are 4-5 key leaders who are emerging who can take this over. They work for the Ministries of Health and Environment and are incredibly talented and dedicated. I am Grand Central for communications and spend most of the day with my nose in a spreadsheet looking at budgets or on the phone. Those of you who know how diligent I am with budgets must be howling with laughter – yes, I have finally failed at my lifelong endeavor to avoid doing budgets. Ian is meeting with local officials and writing proposals for more funding. Yesterday the head of the local mining assn. met with him to discuss future opportunities to re-open ore processing with safer methods. This is encouraging as mining continues and always will as long as the price of gold is so high. We have a cook and a laundryman/cleaner – they usually work for 10-12 people except this week just for me and Ian. It sounds luxurious eh? We look at over the dismal vista, eating rice and beans over and over and over and imagine being on the Mediterranean with this set-up! Our adjoining office is now staffed with 13 MSF folks so even though we are empty nesters til this weekend, it is busy here. We really miss all of you and Moscow but not the weather we hear about. Do send us some news. Our email connectivity should now remain good.
Jan. 15
We've had a pretty quiet day. We took an early morning walk to the Dareta bridge south of here – it is always funny to see how bad the wood is across the bridge. Giant sections of wood decking (loose boards and logs) are missing though the steel is solid. Most cars drive through the river which is only a few inches of water at this time. Later this afternoon we walked into Anka – our little "home" town which is always alarmingly poor and sobering to think it is "town" for the even poorer rural villages. We are always greeted by kids Baturia!! (white people!!) who practice their English "Good afternoon" (any time of day).
Tomorrow the other six of our team come home from the villages where they have been staying this week at our other base compound in Bagega. Ian and I are the dorm mother/father as they have to call us 7X/day to report their whereabouts and movements, via satellite phone. I wear my phone around my neck 24 hours a day.
The temps are nice 80-90 during the day but cold at night (40-50). Locals wear thick parkas, sometimes hats and even gloves during the DAY and huddle in blankets near wood fires at night. We think the day-time temps are grand but have little tolerance for the 100+ temps soon to come of course.
We learn new scams every day. Today both Ian and I were taken one of the drivers who claimed he needed a new engine bearing (~$100). We gave him the money and asked for a receipt for the repair to be delivered next Monday, making a big production out of how we don't usually handle cash here, etc, etc. Later, one of our great supervisors, a local who is an absolute teddy bear of a big man, and honest to the penny, told us we shouldn't have given the driver anything without calling him first. He is usually laughing but this time fussed at us - "Receipts are easy to come by and his repair should only be $10." I am glad Ian was with me so we both felt foolish together! Our local pal made us promise to not disburse a penny without calling him first, day or night.
Tomorrow I am offering a yoga class to our group and Doctors without Borders. Should be fun. We try to make Sundays a real day off.
Mike is returning with a new person on Tuesday. Mike is leaving Hawaii to come here and help close landfills! What a guy.
WSM Coordinates Archive

2014.10.27
A brief tour of some of the large-scale sculptures around the Pullman campus of Washington State University.
Read the dispatch and view the interactive map

2012.10.18
Craft distilleries are popping up all over Washington state, offering everything from gin and whiskey to the rarer absinthe and shochu.
Read the dispatch and view the interactive map
2012.04.24
WSU journalism and French language student Katie Gillespie blogs about her first overseas excursion, a study abroad program in Meknes, Morocco.
Read the dispatch and view the interactive map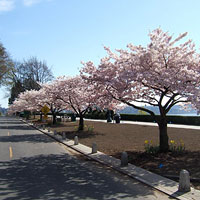 2011.11.10
Everett is a port town with its own lively downtown and community college neighborhoods. We have collected images from around the city to give you a taste of what is there.
Read the dispatch and view the interactive map

2011.08.07
Wildfires have been part of the Pacific Northwest for centuries. This map shows some of the historic fires from the 1850s to 2000.
Read the dispatch and view the interactive map

2011.07.27
Wineries in Washington state owned by Cougs or with a Washington State University connection, and articles on Washington wines in past issues of Washington State Magazine. (List courtesy of Wine by Cougars)
Read the dispatch and view the interactive map

2011.04.28
At the height of tulip season, thousands of visitors trek to the Skagit Valley for the amazing color. There are even more crops and flowers throughout the year in the region.
Read the dispatch and view the interactive map

2011.04.04
Lead contamination as a byproduct of gold mining has killed over 400 children, and left many others sick, in Nigeria's Zamfara State over the past year. Margrit von Braun and others are working to remediate the soil.
Read the dispatch and view the interactive map

2010.12.15
At the end of last August, Scott McMurtrey ('06, English) ran across Idaho, from Montana to Washington, in a single day. He was training and raising money for the Atacama Desert Crossing endurance race in Chile.
Read the dispatch and view the interactive map

2010.10.20
Any time of year, Washington is a wonderful place to eat. Washington State Magazine has explored the food, flowers, and farms of Washington state since 2005.
Read the dispatch and view the interactive map

2010.07.08
A tour of small poultry farms in Skagit and Whatcom Counties by Karen Hills, a Washington State University graduate student in Mt. Vernon.
Read the dispatch and view the interactive map

2010.05.24
After a massive earthquake on January 12, 2010 hit Haiti, Washington State University Athletics team physician Ed Tingstad headed to the disaster site when a friend called.
Read the dispatch and view the interactive map

2010.04.30
Derren Patterson '07 leads mountain biking tours on Bolivia's Yungas Road, labeled the "World's Most Dangerous Road" and "The Death Road.
Read the dispatch and view the interactive map

2009.11.18
Every year, Washington State University's Study Abroad program holds a photo contest for students studying overseas. See a sample of the photos from the 2009 contest, with winners marked by a golden camera.
See the photos and view the interactive map

2009.05.18
Capt. Michael Unruh '04 serves on an F-15E Strike Eagle team supporting U.S. and coalition troops out of Bagram Air Force Base. In his role providing air support to servicemembers in Afghanistan, Unruh says "I've had no greater feeling of satisfaction than when I've completed combat mission and I know that I've helped save American and coalition lives that day."
Read the dispatch and view the interactive map

2009.05.01
by Jenny (Brown) Goeres ('78 Elem. Ed.)
Bill Goeres ('77 Agriculture) and Jenny (Brown) Goeres ('78 Elem. Ed.) volunteered for Amanacer, which provides a home and a new beginning for the abandoned, abused, and orphaned street children of Cochabamba, Bolivia.
Read the dispatch and view the interactive map

2009.04.09
By Birgitta Ingemanson, professor of Foreign Languages and Cultures, WSU.
Eleanor Lord Pray was an American who lived in Vladivostok, Russia from 1894 to 1930 and wrote diary-like letters to friends and family virtually every day. Birgitta Ingemanson wrote her own diaries chronicling her experiences studying Pray's letters and work.
Read the dispatch and view the interactive map

2009.02.27
By Laureen Haydock Lund '82.
Laureen Lund '82 traveled to Ethiopia for three weeks to participate in Ethiopia's National Polio Immunization Day in 2008. What she saw and the people she met changed her life.
Read the dispatch and view the interactive map

A photographic tour of Tacoma's waterfront
Washington State Magazine, Winter 2008/09
By Hannelore Sudermann. Photos by Ingrid Barrentine.
"Twenty years ago, the City Club of Tacoma approached the city with a plan to unify the waterfront and build a walking path from the Tacoma Dome to Point Defiance. The painstakingly researched report urged that the entire waterfront be redesigned as a people place. Lara Hermann '95 was thrilled when a city hall worker handed her the document. 'It was like a present just lands in your lap,' she says."
Read more in the Winter 2008/09 issue of Washington State Magazine.
Powered by mapwith.us
Learn more about MapWith.Us—developed at WSU-Vancouver by students and faculty—in Washington State Magazine's Spring 2009 issue.