Featured Dispatch
Cougs Helping Haiti
By Jason Krump
Just days after a 7.0 magnitude earthquake struck Haiti on Jan. 12, 2010, Washington State Athletics team physician Ed Tingstad received a call from a longtime friend.
"He said, 'We need lots of help,'" Tingstad recalled.
The call was from Jim Lindgren, a medical school classmate of Tingstad and president of the charitable organization Window of Hope. Upon his arrival to the stricken country, Lindgren assessed the situation and called Tingstad for advice, and help.
A month later, Tingstad was on a plane to Haiti with the mission to provide whatever help he could.
Tingstad, who played fullback for the WSU football team from 1986-88, and Lindgren met while attending medical school at WSU in 1989, beginning an over two-decade long friendship.
It didn't take long for Lindgren to determine that with the overwhelming needs of Haiti, he needed to seek advice from his friend.
"We were seeing multiple trauma patients coming to our makeshift clinic and there really wasn't anywhere to refer them at the time," says Lindgren, a board certified physician in emergency medicine, pediatrics, and internal medicine. "Two functioning hospitals were overrun and we were seeing fractures, wounds, and infections."
"It became very apparent that there were not resources on the ground for a surgeon to be a surgeon," Tingstad said.
Tingstad, along with other surgeons, nurses, and anesthetists from Pullman, traveled to Haiti on Feb. 24. The group also brought medical supplies, made possible through donations from the Pullman community and hospitals, and was able to fly to the country because of donations of jets from private corporations, including Pullman's Schweitzer Engineering.
After a stop in Colorado to pick up additional medical personnel, the group arrived in Haiti where they were greeted by the United States military at an airport in Port-au-Prince.
"It was really nice to see American uniform officers coming out to meet you at the plane saying this is where you go." Tingstad said.
It was when the crew ventured outside the airport grounds that reality hit.
"The real eye-opener is when we needed to move the supplies from the airport terminal outside on the streets," Tingstad explained. "We had to wade through the crowds to get the supplies into the vans and trucks and literally people just wanted anything you could provide them.
"That was heart-wrenching," Tingstad added, "because we learned very quickly if we gave one person one thing it caused basically a mob so you really couldn't give anything away in that setting."
Quisqueya Christian School, located in Port-au-Prince, had been transformed into what Tingstad described as an "earthquake crisis center." The Quisqueya crisis center, according to Lindgren, was working with 20 different hospitals throughout Haiti to resource needs.
"They understood what the needs were throughout the country and had the ability to find personnel for them," Lindgren said.  
Tingstad's group traveled to the town of Jérémie, 120 miles west of Port-au-Prince. The group could travel to the town by car, but it would take a 12-hour drive to get there. Just a month earlier, a United Nations food convoy encountered a highjacking attempt near the town's airport.
Because of this, a flight was arranged to transport Tingstad and his party.
"Landing on a dirt runway scared me to death," Tingstad said. "Thankfully, they were American pilots, and they did a wonderful job, but it was new experience to land on a dirt runway."
Tingstad's party met with a group of Cuban surgeons and physicians who were already stationed in Jérémie.
"That's very interesting because of the language barrier," Tingstad said of working with the Cuban doctors. "They were wonderful people to work with."
Normally with a population of 30,000, Jérémie's population had swelled to 100,000 according to Tingstad.
"Everybody was scared to death, nobody wanted to sleep inside," Tingstad said. "Nobody wanted to be in a structure."
Setting up an operating room with the supplies they had brought from the states, Tingstad estimates that during their five days in Jérémie, they saw over 450 patients, performed 29 surgeries, and gave out 800 prescriptions.
After returning to the States, Tingstad was able to be in contact with the Cuban physicians in Haiti in order to deliver continuity of care to the patients he saw.
"I have phone numbers, e-mail addresses, and I still correspond almost daily with several of the physicians in Haiti, getting updates and trying to arrange things to be sent directly to them so they have resources in an ongoing fashion," Tingstad said.
The extent of the tragedy was something that had a profound effect on those who offered their help to the country.
"The scope of the amount of devastation, coupled with the absolute devastation of their infrastructure, was unlike anything I and many other people had experienced," said Lindgren, who has traveled around the world, including El Salvador in November to help flood victims.
 "The perspective that gave you of how fortunate we are is invaluable," Tingstad said. "I was more blessed by my experiences there. I'll never forget operating at 10:30 at night, sweating bullets under Chevy headlights made into lights to show up the operative field. The hard parts of it were there, but you left with a blessing of 'Wow, we are extremely fortunate.'"
And signs of hope exist.
"The things that Ed and his team were able to accomplish really did provide true relief and healing to people. There may be an overwhelming sea of human need there, but they actually did reach in and help to bring healing to both the Haitians and Haiti as a country, and I don't think that can be overstated," Lindgren said.
"The magnitude of this disaster is so tremendous and be able to give Haiti the resources to heal itself is really the key." said Tingstad. "And that's coming, and that's encouraging."
WSM Coordinates Archive

2012.10.18
Craft distilleries are popping up all over Washington state, offering everything from gin and whiskey to the rarer absinthe and shochu.
Read the dispatch and view the interactive map
2012.04.24
WSU journalism and French language student Katie Gillespie blogs about her first overseas excursion, a study abroad program in Meknes, Morocco.
Read the dispatch and view the interactive map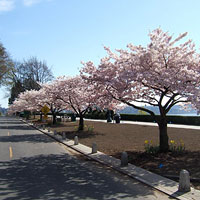 2011.11.10
Everett is a port town with its own lively downtown and community college neighborhoods. We have collected images from around the city to give you a taste of what is there.
Read the dispatch and view the interactive map

2011.08.07
Wildfires have been part of the Pacific Northwest for centuries. This map shows some of the historic fires from the 1850s to 2000.
Read the dispatch and view the interactive map

2011.07.27
Wineries in Washington state owned by Cougs or with a Washington State University connection, and articles on Washington wines in past issues of Washington State Magazine. (List courtesy of Wine by Cougars)
Read the dispatch and view the interactive map

2011.04.28
At the height of tulip season, thousands of visitors trek to the Skagit Valley for the amazing color. There are even more crops and flowers throughout the year in the region.
Read the dispatch and view the interactive map

2011.04.04
Lead contamination as a byproduct of gold mining has killed over 400 children, and left many others sick, in Nigeria's Zamfara State over the past year. Margrit von Braun and others are working to remediate the soil.
Read the dispatch and view the interactive map

2010.12.15
At the end of last August, Scott McMurtrey ('06, English) ran across Idaho, from Montana to Washington, in a single day. He was training and raising money for the Atacama Desert Crossing endurance race in Chile.
Read the dispatch and view the interactive map

2010.10.20
Any time of year, Washington is a wonderful place to eat. Washington State Magazine has explored the food, flowers, and farms of Washington state since 2005.
Read the dispatch and view the interactive map

2010.07.08
A tour of small poultry farms in Skagit and Whatcom Counties by Karen Hills, a Washington State University graduate student in Mt. Vernon.
Read the dispatch and view the interactive map

2010.05.24
After a massive earthquake on January 12, 2010 hit Haiti, Washington State University Athletics team physician Ed Tingstad headed to the disaster site when a friend called.
Read the dispatch and view the interactive map

2010.04.30
Derren Patterson '07 leads mountain biking tours on Bolivia's Yungas Road, labeled the "World's Most Dangerous Road" and "The Death Road.
Read the dispatch and view the interactive map

2009.11.18
Every year, Washington State University's Study Abroad program holds a photo contest for students studying overseas. See a sample of the photos from the 2009 contest, with winners marked by a golden camera.
See the photos and view the interactive map

2009.05.18
Capt. Michael Unruh '04 serves on an F-15E Strike Eagle team supporting U.S. and coalition troops out of Bagram Air Force Base. In his role providing air support to servicemembers in Afghanistan, Unruh says "I've had no greater feeling of satisfaction than when I've completed combat mission and I know that I've helped save American and coalition lives that day."
Read the dispatch and view the interactive map

2009.05.01
by Jenny (Brown) Goeres ('78 Elem. Ed.)
Bill Goeres ('77 Agriculture) and Jenny (Brown) Goeres ('78 Elem. Ed.) volunteered for Amanacer, which provides a home and a new beginning for the abandoned, abused, and orphaned street children of Cochabamba, Bolivia.
Read the dispatch and view the interactive map

2009.04.09
By Birgitta Ingemanson, professor of Foreign Languages and Cultures, WSU.
Eleanor Lord Pray was an American who lived in Vladivostok, Russia from 1894 to 1930 and wrote diary-like letters to friends and family virtually every day. Birgitta Ingemanson wrote her own diaries chronicling her experiences studying Pray's letters and work.
Read the dispatch and view the interactive map

2009.02.27
By Laureen Haydock Lund '82.
Laureen Lund '82 traveled to Ethiopia for three weeks to participate in Ethiopia's National Polio Immunization Day in 2008. What she saw and the people she met changed her life.
Read the dispatch and view the interactive map

A photographic tour of Tacoma's waterfront
Washington State Magazine, Winter 2008/09
By Hannelore Sudermann. Photos by Ingrid Barrentine.
"Twenty years ago, the City Club of Tacoma approached the city with a plan to unify the waterfront and build a walking path from the Tacoma Dome to Point Defiance. The painstakingly researched report urged that the entire waterfront be redesigned as a people place. Lara Hermann '95 was thrilled when a city hall worker handed her the document. 'It was like a present just lands in your lap,' she says."
Read more in the Winter 2008/09 issue of Washington State Magazine.
Powered by mapwith.us
Learn more about MapWith.Us—developed at WSU-Vancouver by students and faculty—in Washington State Magazine's Spring 2009 issue.