[+]
FEATURES
For the Health of a City :: In just two decades, an ailing industrial area has been transformed into a vibrant campus for health education. Now WSU Spokane is primed to train more doctors and other medical professionals to meet growing demands for health care. by Hannelore Sudermann
{ WEB EXCLUSIVE—Gallery: WSU Riverpoint Campus in Spokane }
Let Food Be Thy Medicine :: What we eat can help us fight infection, combat cancer, and address disease. A number of Washington State University scientists explore the medical benefits of a cornucopia of crops. by Eric Sorensen
{ WEB EXCLUSIVE—Report: Overview of plant-based compounds that could slow the spread of cancer (PDF) }
Things that Fly in the Sky :: Over fields, over airstrips, and across WSU, drones are appearing in projects for engineering students, precision agriculture research, and general efforts to improve farming. by Nicholas Deshais
{ WEB EXCLUSIVE—Videos: Flights of the Genii }
{ WEB EXCLUSIVE—Story: Paperclips and printed drones }
{ WEB EXCLUSIVE—Story: Sagebrush and rabbits }
PANORAMAS
:: Nasty epidemic, neat science
:: Oso—a view from inside a disaster
{ WEB EXCLUSIVE—Gallery: Prints by Jim Dine at WSU }
{ WEB EXCLUSIVE—Story: The historic red brick roads preservation project }
DEPARTMENTS
:: First Words
:: Posts
:: Sports: Cougar Football: A new home at the core of campus
:: In Season: The Brussels sprout
:: Last Words: The Extension story
{ WEB EXCLUSIVE—Video: A tour of the Cougar Football Complex }
{ WEB EXCLUSIVE—Gallery: Ferdinand's murals }
TRACKING
:: Chip Hanauer '76—The boat guy
:: Jaclyn Phillips '10—Tripping the towers
:: Mark Paxton '76—Shaping smiles
:: Pam Nolan-Beasley '88—Physics for five-year-olds
:: Alumni News: Cougar I
{ WEB EXCLUSIVE—Videos: The Boat Guy }
NEW MEDIA
:: Asian American Women's Popular Literature by Pamela Thoma
:: Island Queens and Mission Wives: How Gender and Empire Remade Hawai'i's Pacific World by Jennifer Thigpen
:: Races of Mankind: The Sculptures of Malvina Hoffman by Marianne Kinkel
:: New & Noteworthy: Said & Done by Elder Crow; Mending God's Creatures by Jim Roloff '74 DVM; The 5th by Chris Guenther '03
Cover: The Orange Birthday Robe by Jim Dine, 2010. Lithograph, woodcut, copperplate etching, and rubber stamp on paper. Read about the Museum of Art's acquisition of more than 200 Dine prints.
new

on site
Focus Microscope Camera captures the world beyond the eye's reach
July 21, 2014 : Video
The Focus Microscope Camera, created by Jeff Stewart '01 and Michael Baum, can record videos from an iPad connected to any microscope. It can a...Read more
Poverty in children's books
January 8, 2014 : Story
School is starting back up for a lot of children. But do kid's books show the facts about poverty? Jane Kelley at the WSU College of Education has lo...Read more
Magical baked beans
January 2, 2014 : Recipe
Cold wintry weather just begs for baked beans. Check out a recipe for Grandma Smith's Rockwell Baked Beans at the magazine site. The Rockwell Bean is...Read more
Booze, Sex, and Reality Checks
September 20, 2013 : Video
Students at WSU are given the opportunity to explore what they expect and want from a university social experience, including alcohol use and sexual ...Read more
A History of Alderbrook Resort
April 16, 2013 : Video
Celebrating a century on Hood Canal: Washington State University Hospitality alumnus Brian McGinnis '77 talks about the history and renovation ...Read more
Download full screen
interactive magazine
PDF (8.8MB) (BEST VIEWED IN
ACROBAT READER 9 OR HIGHER)

Current issue ePub
(FOR E-BOOK READERS)
Fall 2013 :: Watch full-size :: More videos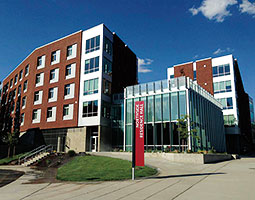 Winter 2013
What's new?
Across the street from Mooberry track, the new Northside Residence Hall welcomed its first 300 student occupants in August.
From WSU North

Read more in Posts for Winter 2013