[+]
FEATURES
Finding the artist: An absurd, incredible journey :: We trace the history of Harold Balazs '51, one of the most prolific public artists in the Northwest. Settling in Washington, he has made our corner of the universe a nicer place to be. by Hannelore Sudermann
{ WEB EXCLUSIVE—Art: A sampling of the varied and extensive artwork of Harold Balazs }
{ WEB EXCLUSIVE—Map: Sculptures around campus }
The Scrambled Natural World of Global Warming, A Travelogue :: More than 20 years ago, entomologist Jesse Logan '77 predicted that global warming would lead to the rise of the mountain pine beetle and the devastation of forests around the West. He was right. Now a menagerie of creatures, including beetles, salamanders, ticks, and birds, are caught up in climate change. by Eric Sorensen
Map: The Scrambled Natural World of Global Warming (PDF)
Mapmaker Mystery :: A hunt for the author of a hand-drawn map leads to an exploration of the history of geology at WSU. by Nicholas Deshais
{ WEB EXCLUSIVE—Map: Detailed geology maps of the Palouse }
Panoramas
:: Lost writer from a lost time
:: Diving deep in a unique tropical paradise
:: A place for faith and support
{ WEB EXCLUSIVE—Excerpt: From Geronimo: Leadership Strategies of an American Warrior }
{ WEB EXCLUSIVE—Image: Mural in K-House }
Departments
:: First Words: Seeing and Knowing
:: Posts
:: Sports: The right color back on
:: In Season: Holiday Sparklers and Caviar
:: Ask Dr. Universe: If there were a black hole between the Earth and moon, what would we see?
:: Last Words: In plain sight
Tracking
:: Joanne Hanley '80—Preserving public treasures
:: Mike Seely '84, '09—A passion for peppermint
:: Ted Tremper '04—The art of improv
:: Alumni News: The classes of '54 and '64 come back to campus
New Media
Nikkei Baseball: Japanese American Players from Immigration and Internment to the Major Leagues by Samuel O. Regalado '83 MA, '87 PhD
Red Light to Starboard: Recalling the Exxon Valdez Disaster by Angela Day
Trail to Gold: The Pend Oreille Route by Linda Hackbarth
New and Noteworthy: After Artest: The NBA and the Assault on Blackness by David J. Leonard; Emergence and Collapse of Early Villages edited by Timothy A. Kohler and Mark D. Varien; Another Autumn by Yvonne Higgins Leach '83
Cover photo Tim Halloran/Creative Life Spokane
2015 Calendar
Join us in celebrating the 125th anniversary of the founding of our University. To commemorate the occasion, we have compiled a collection of historical photographs from WSU in a 2015 calendar. Go to wsm.wsu.edu/extra/2015calendar to buy one.
Download full screen
interactive magazine
PDF (9.5MB) (BEST VIEWED IN
ACROBAT READER 9 OR HIGHER)
OR VIEW TABLET PDF HERE:

Current issue ePub
(FOR E-BOOK READERS)
Fall 2014 :: Watch full-size :: More videos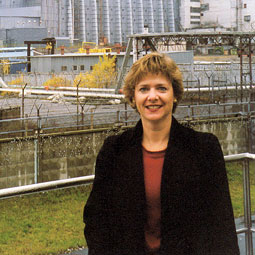 Winter 2003
Susan Senner '80
Read more in Working to prevent another Chornobyl